Posted by Royce Young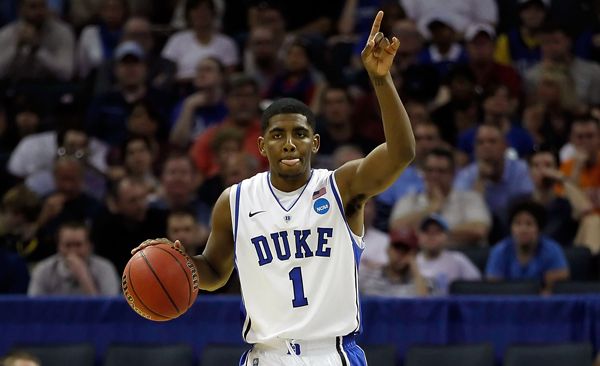 It looks like the Cavs definitely have a little something to tank for now.
Duke has announced
that guard Kyrie Irving will enter the NBA draft.
Irving isn't a sure thing to go No. 1 overall because it'll depend a bit on who gets the top pick (what if it's the Wolves -- would they dare?) but he is the agreed upon best player on the draft.
In CBSSports.com's first mock draft,
Irving is going first overall to the Cavs. Ben Golliver wrote:
When you're as desperate as Cleveland is in the wake of LeBron James's departure, reliability is the surest route to a comeback. Kyrie Irving is the risk-free pick at the top: He clearly has an NBA position, he has his head on his shoulders, he displays all the leadership qualities and intangibles to build around, and he can shoot the rock. The Cavaliers have needs everywhere but they need to walk before they can run. A reasonable best-case scenario in the short term is that Irving blossoms to carry a lesser cast to big things, a la a young Chris Paul; The worst-case is that you have a solid floor general locked in for years to come.

He's a 6-2 point guard from New Jersey and despite playing in just 11 games because of a toe injury, Irving displayed a wide range of ability in the NCAA tournament. In those 11 contests he averaged 17.5 points 3.4 rebounds and 4.3 assists a game while shooting better than 50 percent from the floor and 46 percent from 3.
In Duke's final game of the tournament, Irving scored 28 against Arizona for the Blue Devils.
Again, it's not a sure thing that Irving will go No. 1, but he definitely will be the best available player. A lot of the bad teams though are sort of settled at point guard, so it'll be interesting to see what happens if Washington or Sacramento (depending on your perspective of
Tyreke Evans
) or New Jersey lands it. If Cleveland or Toronto win the lottery, I'm sure it's a no doubt situation.
The draft is June 23 in New York City.