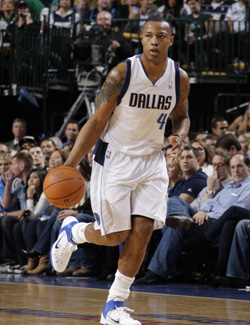 Caron Butler was supposed to be out for the year with a ruptured patellar tendon. But he's pushing to make an unlikely return in the playoffs for a Mavericks team that desperately needs him.
Posted by Matt Moore
The Mavericks haven't really been the same since Caron Butler went down to injury. Before Butler ruptured his patellar tendon, the Mavericks weren't just good. They were great. For most of the season they held the second spot in the West. They were right there with San Antonio, vying for the top spot. Then Butler went down, and the Mavericks elected, in a rare moment of restraint, to not replace him through trade. The result has been a slow and gradual slide that has them clinging to the third seed over Oklahoma City. They went from a team that looked like a Finals contender to a team opponents are vying to play in the first-round. Butler's absence has been a big part of that. Without him for the rest of the season, their prospects seem dim.
Yeah, about that whole "Butler being out the entire season thing."
Butler has been making significant progress in rehabbing from his injury. To the point where there's starting to be some rumblings that we may see the veteran wing back in the postseason. From the
Fort Worth Star-Telegram
:
Rick Carlisle said the prospects of a return at some point in the playoffs still hinge on the medical aspect of the situation. Butler has been out since Jan. 1 when he ruptured his patellar tendon in Milwaukee.

"Could he help us if he was healthy? Of course,'' Carlisle said. "But to what extent he's going to be healthy and when, those are questions I can't answer right now and I'm not sure any of our medical people can. The thing I do know is that he's made phenomenal progress. He's way ahead of schedule for this type of injury. I'm just not sure whether that's going to manifest in him putting a uniform back on at any point soon.''

Butler has vowed to make it back at some point in the playoffs, hoping to hit the optimistic end of the four-to-six month normal recovery time from his injury.
via
Full-Court Press: Mavericks' (and UConn ex) Butler doing better Tuesday than Butler U.
.
That's pretty tough stuff from the guy they call Tuff Juice. Butler's shopping for a new contract after this season, and while you could argue that might be behind his drive to return and up his value, the risk is much greater in showing poorly or suffering another injury. Butler is 30, and should be looking for that last long-term contract. But instead, he's aiming to return.
Butler wasn't playing great for the Mavericks before his injury. 15-4-2 isn't a huge contribution. But his defensive work was a significant boon for the Mavericks, and something they will desperately need, regardless of who they face in the playoffs. Getting him back could put them back on the playoff map. It's a long way back for Butler, and it's unlikely he manages to return from that kind of injury. But if he can and provide the Mavericks any significant contribution, the Mavs may turn this thing around, which would be bad news for the rest of the West, considering how strong the Mavericks still are.