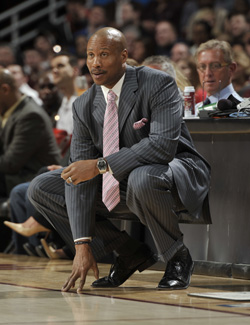 Byron Scott may not be on the hot seat, but should he be?
Posted by Matt Moore
There is a difference between not having much to work with and doing very little, and not having much to work with, and doing even less.
That's the summation of Byron Scott's work with the Cleveland
Cavaliers
this season.
Scott came into a job having been sold, probably, that he would be coaching
LeBron James
and the rest of a team that won more than 50 games four of the past five years prior to his hiring. He thought he would be competing for a championship. When James left and Scott was left with the remains, a pass was automatically granted to him by media, fans, experts. What are you going to do with that roster? Then the injuries hit. How are you supposed to win with a bad team that's also injured? And so on. Excuses were made, accepted, and away from the spotlight of national attention, Scott was slotted into a quiet "Poor guy" model and forgotten about.
CBSSports.com's Ken Berger
has a rundown in his weekly Post-Ups
of coaches and managers who could be on the hot seat soon.
All of them have a better record than Byron Scott.
Consider this: Mike Brown was fired despite a win percentage of .663 with the Cavaliers. Byron Scott currently
has a .469 winning percentage
and a .208 mark with the Cavs. Scott didn't come with championship experience as a coach. Why then is his work with the Cavaliers being glossed over so smoothly?
The answer is a few signature wins. The Cavaliers have knocked off the
Celtics
, the
Lakers
, the
Heat
, and the
Knicks
(thrice) this season, which
Cavs the Blog author John Krolik
says lead to the false perception that the Cavs are "scrappy." In reality, these were simply the result of an 82 game schedule. In the course of such a long season, you're going to have random games. Not just games where a good team isn't feeling it. Just games where the other team is better that night. A good team can play well and still lose to a bad team. This isn't to take credit away from those Cavalier wins, they count in the standings as much as the Celtics' wins do. But it's the overall body of work beyond the wins and losses, especially for a rebuilding squad, that shows the value of the team. And the value of the Cavaliers is terrible. That's mostly on account of roster. That's partly on account of Scott.
The Cavaliers have shown poor late-game execution, have struggled with lineup management, have failed in communication and coherency on both sides of the ball, and have illustrated a lack of effort in the majority of their games. Those are not solely accountable to a bad roster. A large part of those problems is coaching. Meanwhile, as the losses have piled up, Scott has not stuck by his guys. Instead of protecting a young roster trying to find its way and seek some progress, at every turn Scott has publicly, not privately, publicly berated his team. Running down a young squad for their effort in practice is one thing. Doing it in the post-game gaggle is another. It doesn't motivate the players. It doesn't help the organziation move in the right direction. It just makes it look like Scott's trying to duck the blame for the losses.
Byron Scott was dealt a bad hand and played it poorly. He was never known as a coach to develop young talent around. In New Orleans, he buried
Darren Collison
and
Marcus Thornton
for being rookies despite their showing significant talent. The younger Cavaliers have shown little progress towards developing into quality players. Scott may have been a great fit for the LeBron Cavaliers. We'll never know. We do know one thing. He has not been a great fit with a rebuilding Cavaliers team.