Rick Adelman's Rockets are over .500 and he's one of the most respected coaches in the league. So how could he possibly be out after this season?
Posted by Matt Moore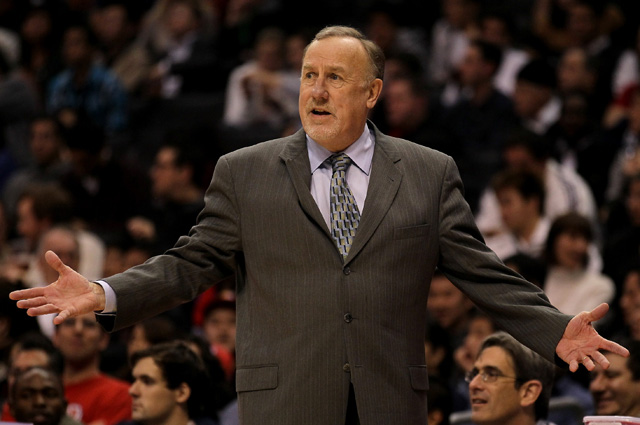 There was a time, way back when, when winning more games than you lost as a head coach earned you some modicum of job security. Those days are through. Now everything about your job performance is contextual. Win tons of games but fail in the playoffs? Canned. Win less than half your games but show promise and development year after year? Keep your gig! Fall prone to a roster compromised by severe injury after severe injury and still manage to win more games than you lose?
Ask Rick Adelman how that works out.
Ken Berger of CBSSports.com reports in his weekly Post-Ups that Adelman could be swept out once his contract expires at the end of this season. Adelman's Rockets are currently three games out of the 8th seed in the West held by Memphis with four games remaining. They are four games over .500. From KB:
Everyones contract is up in Houston, including Adelman's. Theres no doubt he's one of the games finest coaches. But with Yao Ming's future up in the air, it could be time for Adelman to move on. When Portland gave Nate McMillan an extension last month, it opened the door for the Rockets to do the same with Adelman. But sources say communication and trust aren't great between Adelman and owner Leslie Alexander, who may conclude that its time for a different direction. Then there is the uncertain future of GM Daryl Morey, whose contract also is up and whose status was described by one industry source as "questionable."
via
Post-Ups: Important MVP race deserves hard consideration - NBA - CBSSports.com Basketball
.
Adelman has a career .606 winning percentage, and is 191-133 for a .589 percentage with Houston. This, despite Yao Ming missing 187 of the 324 games Adelman has coached for the Rockets. The Rockets have made the playoffs twice during his tenure and will, in all likelihood, have finished 9th the past two seasons in a crowded West. To put it in perspective, the Rockets would have been the 8th seed in the East last year, bouncing the
Bulls
, and would be the sixth seed in the East currently, above the Sixers and
Knicks
.
But of course, again, things must be judged in context. The Rockets had a substantial core of talent this season even without Yao Ming.
Luis Scola
,
Kevin Martin
, and the emergence of
Kyle Lowry
as a big time player shows that the potential was there. The big collapse for the Rockets this year was on defense. Until two midseason trades, the Rockets had been one of the worst defensive teams in the league. They've made terrific adjustments during this late season run, but that inability to get stops falls on the coach.
Even then, however, you have to wonder if Adelman wouldn't have a doubt about his situation had Daryl Morey been able to translate his considerable ingenuity and roster management skills into a star player. That's what Houston misses so dearly, the guy you can turn to to make a play for you on either side of the ball. But it didn't happen, and now Adelman's looking at the possibility of his contract not being re-upped.
There are reasons for Alexander to hold, however. The Rockets are on the books for just $48 million next season. Even in a revamped CBA structure, they'll have some wiggle room. Daryl Morey has never had as much financial freedom as he's about to have. If he were to whiff again, or if Adelman was unable to translate an upgraded roster into victories with a healthy club, it would definitely be time for a change. But to let loose one of the more respected general managers, even after a bad run, and one of the more respected coaches, even after some bad defense, in the face of them winning more games than they've lost?
Patience is a virtue, but then, everything has to be put into context.