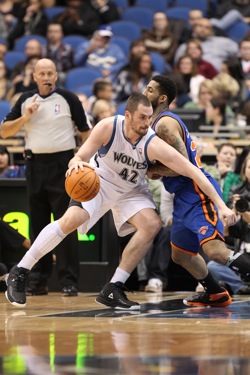 Posted by Royce Young
Basically, the cycle goes like this: Get good at basketball, get drafted by an unsexy market, put up big numbers and then have people bother you constantly about if you'll remain there into the future.
Kevin Durant answered those questions for two years before he signed a five-year deal to stay in Oklahoma City. Dwight Howard will has been answering them for a couple years and will continue to. And now Kevin Love is starting to get a taste of it.
Love spoke to reporters Monday and was asked directly about his long-term standing with Minnesota. And Love took the oft used road of saying something without really saying anything.
"If it all works out and it's all right, I think I definitely could. I enjoy the city, I like the people here, I like the organization," Love told the Star Tribune. "I like a lot of things about it besides the cold winter. ... I could definitely see myself here."
He likes the people. Likes the organization. Love doesn't love it. (Excuse me, that was terrible.) That's me definitely reading way too far into Love's comments, but truly, those aren't the most glowing statements about the team. Not exactly a huge drop of encouragement.
Love is eligible to sign an extension with the team starting July 1. That is if a new CBA is agreed upon to which there is a fat chance. If Love doesn't sign though, he'd become a restricted free agent in 2012. And to that end, Love used the dreaded line: He's keeping his options open.
"You have to weigh your options," he said. "If there is a better opportunity out there, you have to look at your situation and see what's going to be best for me. ... But also, sometimes you have to go with your heart. When you break it down like that, it really could go either way. But if everything works out right here, I'll probably be here."
Again, I'm just wildly speculating, but that doesn't sound like a guy that fired up about his organization. And why should he be? The Wolves have been a hamster running on a wheel of rebuilding the last four years and really haven't made much progress. So not only is he really cold all the time, but he doesn't have a bunch of wins to warm him up. Not a good combination.
Players want to win. That's the main objective. And if they don't see that in their future, they'll start looking at options. The Wolves are in a position where they need to get better for a lot of reasons, but maybe the most important one is to prove to Love that they're a franchise worth building with.