Jeff Green says all the right things about where his game needs to go in Boston, but the early returns are not great.
Posted by Matt Moore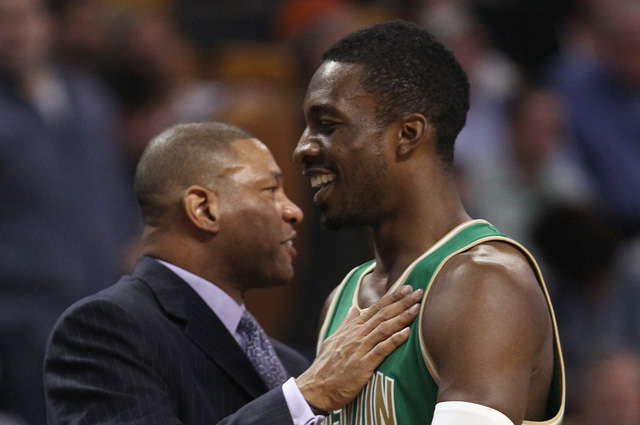 Is a team truly more the product of its players or its system? Surely both are essential on both sides of the ball. Lack the personnel, and you physically won't be able to execute the principles the system demands. Lack a cohesive system, and too often individual player tendencies will disrupt the balance on either side of the ball, creating opportunities for the opponent. Often, strong systems seem to mask what at the surface level are underwhelming players. The idea then percolates that inserting an inferior player to the system will create similar results, because it's the syste, not the player, that's essential. Boston certainly would seem to fit that model, but Jeff Green's first month and a half with the
Celtics
is drawing some concerns on that front.
The internet was ablaze with discussion of Green and how he's fitting in with the Celtics. The offense is a talking point, but can you really expect Green to be a significant contributor with the kind of offensive firepower he's sharing the floor with? The occassional three or dunk off the drive, sure. But he's stacked on each side by Hall of Famers. No, where Green really needs to make an impact, and dispell a notorious reputation for softness, is in rebounding. And everyone's got an opinion on that subject.
Rivers also highlighted one other area where he'd like to see Green be more assertive.

"One of the things he has to improve on is rebounding," said Rivers. "He had zero [on Friday], he had four [Sunday]. He can be a better rebounder for us."

Green agreed that he can still make strides both on the glass and on the defensive end of the floor, suggesting production in both of those areas is even more important than his contributions on offense.

"I want to do more on defense," said Green. "I need to rebound more. I need to just focus on that instead of what I need to do on the offensive end."

Since joining the Celtics, Green has averaged only 2.5 rebounds per game, after averaging 5.6 during his time with the Thunder this season. Green's defensive rebounding rate since coming to Boston registers at just 9.9 percent, which is lower than the 13.6 percent he hauled in as a member of the Thunder this season, and is well below the league average for forwards at 16.2 percent, according to HoopData.

"I'm comfortable with everything [on offense]," said Green. "Defense is where I need to get better at, as far as rotations, [with] rebounding being the key thing. Put that in all caps, italicize it, whatever you want to do. That's the main thing which I need to get better at."
via
No more Mr. Nice Guy for Green - Boston Celtics Blog - ESPN Boston
.
So it's good that Green recognizes what he needs to work on, and that Rivers is trying some of that patented motivational work on him. But the signs that the defense is a red flag area are even more alarming. Like, big, blaring siren that is so loud you can't think of anything else. Like fire alarm in a small metal room loud. From
Sports Illustrated
:
Parse the numbers a bit more, and a second trend is repeating itself, one that might temper the bad news a bit: Most of this deluge of opponent scoring is coming when Boston plays Green at power forward. Considering only these 10 lineups, opponents have scored about 123 points per 100 possessions when Green is at the "4." That number would embarrass the Raptors. The bad news: The lineup in which Green has logged by far the most minutes features him at power forward alongside Boston's core four of Rajon Rondo, Ray Allen, Paul Pierce and Kevin Garnett. This group has played 46 minutes together, triple the number of minutes Green has played with any other foursome.
via
The Point Forward » Posts Green not living up to Celtics' hopes … yet «
.
Yikes. Green's been considered a "tweener" forever and this provides even more evidence that he's not growing out of that label any time soon. He's too big to guard speedy perimeter threes, and two light to guard muscular fours. The rebounding is a mental edge, one that he simultaneously acknowledges and refuses to integrate. The numbers stand out more on the Celtics because of their excellence in that area (8th in
defensive rebound rate
), but in reality, as ProBasketballTalk.com points out, this is nothing new for Green:
Pretty much what happened at the Thunder. You can rationalize it and say if you play him at different positions (more three than four) or put him in with different lineups you'll get better results. Maybe. The Celtics are a team that figures things out, and Green provides nice depth off the bench on offense. Players do improve. Sometimes. But basically, this is Jeff Green. What you are seeing is what you will get.
via
Celtic fans, what you see with Jeff Green is what you get | ProBasketballTalk
.
Part of this is a function of having a top heavy team loaded with stars. You've seen similar instances with the Celtics in the past, as role players have been inconsistent in key areas (
Nate Robinson
,
Leon Powe
,
Eddie House
), and the same elements exist on teams like the
Heat
, where players are quality veterans, but lack abilities in key areas at their position (
Joel Anthony
,
Mario Chalmers
, Eddie House, again). But Green what also considered to be part of the return for
Kendrick Perkins
, a valuable role player going forward that could contribute in multiple areas. The system was supposed to aleviate various weaknesses in his game. Instead, at least so far, he's been the same player. Can you really change the makeup of a player by inserting him into a different system, especially in a close-knit, brusque, veteran-laden environment like the Celtics' locker room?
If there's one area of the trade that seems to show some signs of life towards the systemic approach, it's the center swapped.
Nenad Krstic
's
rebound percentage
has risen to 14.2 percent from 11.9 in Oklahoma City (5.6 from 4.4 per game, while Kendrick Perkins' has dropped from 19.0 to 18.2. Granted, there's an extremely small sample size on both sets, especially considering the small number of games Perkins has been available for due to injury. Interestingly, Krstic is actually out-performing Perkins at the Celtics' biggest weakness, offensive rebounding. The Celtics are dead last in that category, but Krstic has made a slight improvement in his numbers there.
Jeff Green's offensive rebounding numbers? They've
gone from bad to worse
.