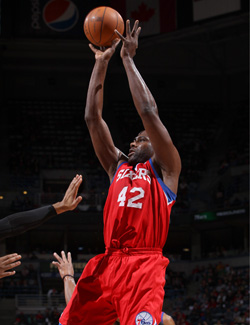 Elton Brand suffered a "very minor fracture" in March, has not and will not miss any time. Because he's tougher than you.
Posted by Matt Moore
Elton Brand has been one of the biggest reasons why the Sixers have found their ways back to the playoffs. Brand's numbers are up in points, rebounds, and shooting percentage. Might want to add toughness to his resume this season. Turns out he's been playing with a broken hand.
Following the Sixers home loss to the Oklahoma City Thunder on March 9, coach Doug Collins said that forward Elton Brand had gotten "karate chopped" on the back of his left hand and that the hand was very sore.

In subsequent games, Brand was wearing padding to protect the hand, which was noticeably swollen for a few days after. Turns out, Brand suffered a "very minor fracture," a team source said. Brand has not missed any time since the injury and shed the protective padding in the middle of a loss to Utah, just three games later.
via
Elton Brand has been playing with a small fracture in his hand | Philly | 04/05/2011
.
I don't know about you, but I'd miss time with a broken hand at my job. And I don't, you know, play basketball for a living. Brand has played through a broken hand, even if it was "very minor" and kept up his production.
No one saw Brand making a recovery production-wise this season. Perhaps more impressive than just ticking up in various box score areas is that Brand has managed to do so in efficient ways.
His usage is down
, but his production is up, and his turnovers are down. In short, Brand is doing more with less. And apparently he's able to do it with 1.75 hands, which is pretty impressive.
You'd think the Sixers would want to give Brand some time before the start of the playoffs, but given their approach this season, he'll probably push through. The Sixers are basically a roving band of
Warriors
fighting anything that gets in their way at this point.