New York Knicks president Donnie Walsh reportedly controls his own destiny with the team. Posted by Ben Golliver.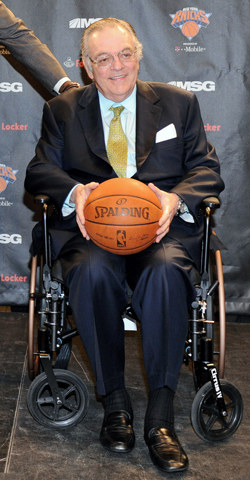 New York Knicks president Donnie Walsh has transformed his franchise, landing two superstars over the last 12 months and building the first playoff team the organization has had since 2003-2004. Sure, the Knicks are still sitting at .500 as of Tuesday but they should finish the season with at least 40 wins, something they haven't accomplished since 2000-2001.
The Knicks' future is even brighter. One question: Will Walsh be around for it?
That's been a common question over the last few months in the New York media, as the deadline to pick up the option on Walsh's contract is April 30. Knicks owner James Dolan is often painted as a wild card and some are confused as to why Walsh's option hasn't already been picked up.
The New York Post reports
that Walsh's future is in his own hands.
Two league sources say they believe it is up to Walsh, 70, on whether he comes back next season. One of those sources said money was a non-issue, but Walsh had a difficult decision to make as to whether he wanted to return or felt his work at the Garden was complete.
"My dream from Day 1 is to put this team on the path to a championship level," Walsh said. "I don't think it's there now, but we're getting close. That's what I said I'd do in three years. That's what I've done."
...
"We're on the way now, yeah. We've got a core group that can be the makings of a very good team," said Walsh, sounding like a man who could walk away content in a job well done.
The paper notes that Walsh's contract runs through the end of June, so negotiations on a new deal could take place even if his contract option isn't picked up this month.
Unless there's an issue with his health or age or there's a back room power struggle that the public isn't privy to, Walsh has every reason to finish what he's started in New York. And the Knicks would be crazy not to retain him. The results, and Walsh's decades worth of experience, speak for themselves.