Sacramento Kings forward Omri Casspi says he is ready for a change of scenery. Posted by Ben Golliver.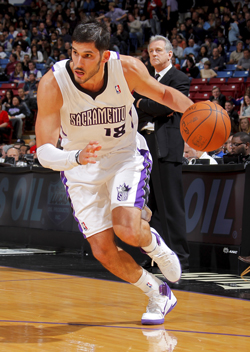 The only thing more demoralizing than riding the pine while your team goes 22-54 is the thought that you could be stuck in the same spot next season.
That's where Kings forward Omri Casspi finds himself as the clock winds down on Sacramento's season. Casspi's minutes and shots are slightly down this season, his second year in the NBA, and he's not sure how or where he fits into Kings coach Paul Westphal's plans.
News10.net reports
that Casspi, the first Israeli ever to play in the NBA, expressed frustrations with his current situation in an Israeli publication, stopping just short of publicly demanding a trade.
"I know that there are many teams, including some playoff teams, that want me ahead of next season." Casspi wrote. "I hope to find myself in a team that appreciates me as a player and a person, a team that plays like a team.
"I still don't know if I will definitely not be continuing with the Kings. I've got a contract and love the fans, the city, the owner and the general manager. But things haven't worked out and that is legitimate.
"Clearly the current situation is not ideal for the team and for me. There are other teams wich suit me better and since I have an excellent relationship with the players and the staff, I hope that they appreciate me enough to let me leave for a place where I can play basketball."
Casspi faces a very similar situation to what Portland
Trail Blazers
guard
Rudy Fernandez
dealt with in recent years. While he's stuck on Sacramento's bench and might not be a key cog in Westphal's rotation, he's a difficult piece for management to part with via trade. He's young (22 years old), he's shown toughness and flashes on offense, his best basketball is still ahead of him and, perhaps most importantly, he's locked into an affordable rookie deal that runs through 2012-2013 at least. Although he might not be receiving the A+ treatement from Westphal, he represents a highly-prized asset for management.
Even if Casspi wasn't planning for the cash-strapped Maloof family, most teams would look at Casspi's $1.3 million contract next season and think that he is a player worth retaining. Casspi averages 8.8 points and 4.4 rebounds in 24 minutes this season. Is he capable of more if given a larger role? Sure, most bench players are. But patience is a virtue here: There's no guarantee Westphal will be around next season, let alone for the long haul. How many times have we seen a player's fortune change under a new coaching regime? Too many to count.
While Casspi is almost certainly correct in stating that many teams are interested in him, that doesn't necessarily mean they are willing or able to give the Kings equal value for his services. Indeed, trading away a player on his rookie deal is no easy task because teams are more likely to decide to wait and make things work rather than risk watching a cheap, young player blossom elsewhere.
Is Casspi stuck in Sacramento? Definitely not. But he'd do well to acknowledge the possibility that he could be there for awhile and to realize that his situation is likely not as bad as it seems right now.