Milwaukee Bucks point guard Brandon Jennings lashes out at his teammates and management. Posted by Ben Golliver.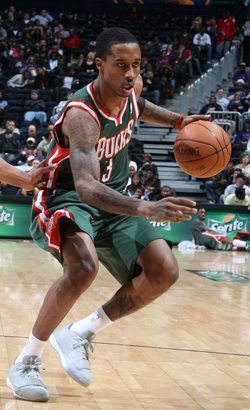 As we noted back at the end of December
, the Milwaukee Bucks are one of the few teams this season that entered the 2010-2011 campaign with major expectations and then fell flat on their faces. There are a bunch of bad teams in the NBA but, by and large, the lottery teams today are the lottery teams that were expected in October.
The Bucks, however, entered this season by extending coach Scott Skiles and with the playoffs, and possibly contending for a Central Division title, in mind. That didn't happen. At all.
At 31-45, Milwaukee will soon be mathematically eliminated from the playoff picture and Brandon Jennings isn't happy about it.
The Racine Journal-Times reports
that the second year point guard is blasting off in every direction, calling out his teammates for their lack of effort and his team's management for their moves.
After the Bucks were virtually eliminated from the Eastern Conference playoffs in a loss Friday to the Indiana Pacers, Bucks starting point guard Brandon Jennings publicly expressed what many of his teammates had privately felt for months. "Some guys have the mind-set of winning on the team and some guys just don't,'' Jennings said.
Jennings then an indirectly took a shot at Bucks general manager John Hammond, assistant general manager Jeff Weltman and coach Scott Skiles, the three biggest personnel decision-makers in the organization next to owner Herb Kohl. "We traded a lot of pieces I feel like we should have kept,'' Jennings said. "But that's part of the business and you've got to roll with it.''
Jennings is 21 years old, has dealt with a foot injury that caused him to miss a bunch of time this season and is an emotional person who wears his heart on his sleeve. With that said, true point guards and leaders are better than this.
Clearly, any assessment of responsibility should start with Jennings himself. He's taken a step backwards this season statistically, averaging less than five assists per game despite starting 55 games so far and playing more than 34 minutes a night. Sure, the shooting talent around him leaves a lot to be desired, but ramping up his ability to get others involved would be a great first step in launching a "winning mindset" among his teammates.
Speaking of the winning mindset, jacking five three-pointers a game when you shoot 32.5% from downtown is the opposite of a winning mindset. That's just bleeding inefficiency all over the court and setting up your team for failure. Three options: become a better shooter, take better shots or take fewer shots. The math on those numbers will never compute to success and it's not anyone else's fault. That's on Jennings.
Questioning your team's management is almost never a good idea in the NBA, especially when you're 21 years old. Nothing good can come from it and that type of thing has the power to alter a franchise's path in a negative way, cutting into the trust that needs to exist between front office and star player. If something needs to be said, say it behind closed doors.
Hopefully there's someone that's in Jennings' ear right now letting him know that if he continues to be the
27th most efficient point guard
in the NBA he better get used to dealing with the losing, regardless of how hard he's trying. Succeeding in the NBA isn't always about effort and dedication. No one can question Jennings' love of the game, but he needs to develop his understanding of its nuances as well as the ability to hold himself accountable on the court before pointing fingers off of it.