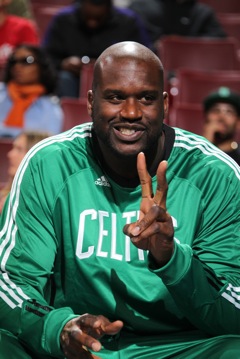 Posted by Royce Young
UPDATE:
Shaq actually returned, for real, to the
Celtics
today. On his first trip down the floor though,
he presumably re-injured the Achilles
that sidelined him for so long. However, rest easy Celtic fans,
the team says it was a right calf strain.
Shaq left the game, limping off the floor. Reports say he had to be
wheelchaired to the locker room.
It looks like the Celtics dodged a big one with Shaq not re-injured the Achilles, but still, the question is begged: What happens come playoff time? Can Shaq really hold up for four seven-game series, much less just one? He's a bit out of game shape right now so that's definitely part of it. But still, the risk of trading
Kendrick Perkins
relied heavily on the health of a beat up 39-year-old center and so far, he hasn't been able to get healthy.
-----
Following the will he, won't he saga of when
Shaquille O'Neal
is to return has gotten about as old as the Big Diesel himself.
But via CSN New England,
Shaq says he's going to try and give it a go tonight versus Detroit.
"I'm going to try," he said. "We'll see."
Of course Shaq has missed the last couple months because of an Achilles injury that has taken forever to fully heal. It would be very nice for Boston to get him back, especially with
Nenad Krstic
out for the moment with a strained knee.
Doc Rivers recently said he hoped to
get Shaq back before the playoffs
and the reasoning is obvious. Rivers wants Shaq to work off some of the rust, get in game shape and be ready to go full out during a playoff series. If Boston were to get him back tonight versus Detroit, that would give O'Neal seven games to get settled in again.
Whatever the case, this sounds promising as there has been some worry that Shaq might not ever be ready to go again as this thing kept strining out. But it sounds like he's feeling good, looking good and very close to a return.