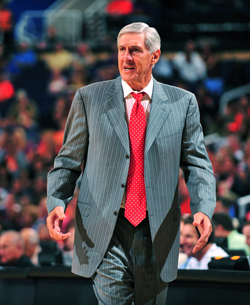 Posted by Royce Young
When Jerry Sloan unexpectedly resigned from his post as the coach of the Utah Jazz earlier in the season, he tried to make it clear that he wouldn't consider a return to coaching.
But this is sports and as we've all learned over time, you can't always believe a guy when he says he's done. Look what you've done, Brett Favre.
And according to the Minneapolis Star Tribune, there's a scenario in which Sloan might consider a return. The report puts it this way:
"Sloan would listen if another team approached him, according to a source who has spoken to Sloan recently, and would seriously consider the right situation ... But he won't actively seek another job or have anyone campaign for him. Almost alone among NBA coaches, Sloan, who turned 69 a week ago, doesn't have an agent."
Sloan is sitting on 1,221 wins which is just 114 behind Don Nelson for first all-time. On a good team, that's just two seasons. Something definitely within reach. Sloan is 69 years old though and seemed very content with stepping away when he did.
Of course I'm sure he wasn't thrilled with the way it happened. He seemed frustrated with his roster, especially with point guard Deron Williams. All of that conflict eventually led Sloan to resigning from the position he had held for 23 years.
Sloan is a Hall of Famer already, having been inducted in 2009. He has all the wins a guy could need except for a championship. And somehow, he doesn't have a Coach of the Year.
So who could call him? Speculating of course, some of the open spots might be with the Warriors, Pistons, Pacers, Timberwolves and of course, the Lakers. There will be more on top of that too (Raptors? Hawks? Kings?) but the job would absolutely have to be the right one for Sloan. I'm sure he's not interested in taking on a rebuilding gig.
I feel like this is a total longshot but according to this, Sloan is willing to listen. And if you have a head coach vacancy this summer, you better be willing to give him a call.