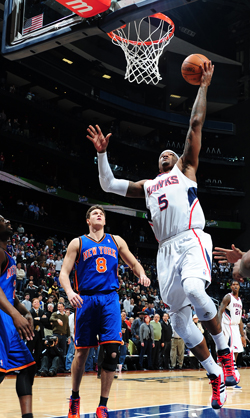 Posted by Royce Young
I wrote extensively about the awkward plight of the Atlanta Hawks recently. Much improved, but still a long way off. It's a weird situation because it's still a young roster that's experienced success but there really is no silver lining immediately in sight.
And as a result, maybe things could be changed soon. In a chat on ESPN.com, there is word that there could be "major changes" coming if the Hawks don't make a solid second-round showing this year in the playoffs.
Hard to say exactly what those changes could be seeing as the Hawks just signed Joe Johnson to a wild $120 million extension and Al Horford to a new $65 million deal. Josh Smith could be a lucrative chip though, but I'm not sure that's really a major change.
There has also been some speculation that coach Larry Drew could be on the hot seat. That was when the Hawks appeared to be imploding but they've recently played better.
It does look pretty unlikely that sixth man Jamal Crawford is part of the future plans though, as Atlanta didn't offer him an extension last summer while Crawford really wanted one. So most likely he'll walk this summer, freeing up a little cap space.
Point is, the Hawks might have to look themselves in the mirror and possibly figure out where to go. It's really an interesting, awkward place for a lot of teams.
The Hawks are competitive. They're winning. They are a consistent playoff team. But it doesn't look like they're set to go much further than that and in the end, isn't that the overall goal?
Maybe using the sigificant change thing is a bit dramatic. Maybe that doesn't necessarily mean they're ready to set dynamite to the core and start over. Maybe it just means they're willing to trade a big piece like a Josh Smith or to a lesser extent, Marvin Williams.
Because a lot of teams would love to have talent like the Hawks. Joe Johnson or Al Horford. It's just about putting the right pieces next to them.