Los Angeles Lakers forward Matt Barnes has been suspended for one game for tossing Dallas Mavericks assistant coach Terry Stotts to the ground.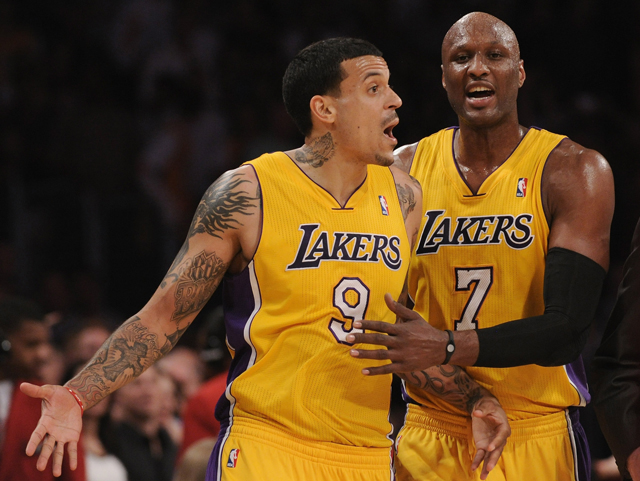 Posted by Ben Golliver.
On Thuesday, we noted a heated exchange occurred during the fourth quarter of a Los Angeles Lakers blowout victory over the Dallas Mavericks.
Everything started
when Mavericks guard
Jason Terry
shoved Lakers guard
Steve Blake
to the ground but things really got ugly when Lakers forward Matt Barnes got
wrapped up in a bear hug
by Mavericks assistant coach Terry Stotts.
After attempting to extricate himself multiple times, Barnes eventually turned around and knocked Stotts to the ground, getting himself ejected and assuring himself of a suspension in the process.
On Friday, the NBA announced that Barnes would be suspended for one game without pay.
Matt Barnes of the Los Angeles Lakers has been suspended one game without pay for escalating an on-court altercation and actions following his ejection, it was announced today by Stu Jackson, NBA Executive Vice President, Basketball Operations.
The incident occurred with 9:23 remaining in the fourth quarter of the Lakers' 110-82 victory over the Dallas Mavericks at Staples Center on March 31. Barnes will serve his suspension tonight when the Lakers visit the Utah Jazz at EnergySolutions Arena.

Honestly, Barnes got off fairly easily here. Responding to a non-player involved in the scuffle sets a bad precedent and the NBA easily could have laid down the hammer given that Stotts was manhandled.
Barnes, for his part, was unapologetic. He
took to Twitter on Friday afternoon
to say he viewed the suspension as an "extra day of rest" for his knee and that the Mavericks could be beaten by being "punked."
I get an extra day of rest for my knee. Ill be watching the game 2nite w/the rest of the laker fans, on tv. All good team will keep it Rolln 2nite vs the Jazz.. Ill be bak sunday.. Appreciate the support from all the lakeshow fans.. RESPECT!!
Also another thing NO ONES worried bout wat Jason Terry is talkn bout everyone remembers the 07 season Me & the Golden St homies laid out the blueprint on how to beat Dallas.. "PUNK'EM" Aint **** changed homey.. So enough w/the small talk

Well, after reading that I think it's clear that this suspension was completely meaningless. Something tells me we haven't heard the last of Barnes' antics this season.