Los Angeles Lakers star Kobe Bryant believes that Lakers coach Phil Jackson will retire after this season. Posted by Ben Golliver.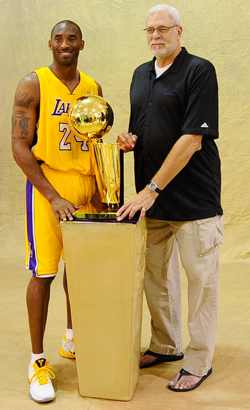 For months, Los Angeles Lakers coach Phil Jackson has maintained that this will be his final season coaching the Lakers but there are still those who doubt whether he will be able to walk away from the game with his team still at the height of its power. Lakers star guard Kobe Bryant is not one of those doubters.
Bryant said during
an interview on ESPNs Pardon The Interruption
that he does believe Jackson will hang it up after this season and that he's turned his focus to sending Jackson out on top. "Derek [Fisher] and I talk about it every now and then. It's kind of hard to imagine him not being around. What we always come around to in that conversation is, 'let's not mess this up for him.' This would be [his fourth three-peat], if we're fortunate enough to do it again. We don't want to be the team that dropped the ball for him, we want to send him off the way he should be, the way he deserves to be sent off."
Asked how he would feel if Jackson made a coaching comeback -- say, with the New York
Knicks
-- Bryant just laughed. "If he decides to coach again, some place else, whatever it may be, or if he decides to just stay in Montana and fly fish every day, whatever it is, we just want him to be happy."
Bryant admitted that the potential for a lockout and work stoppage makes it harder to convince Jackson to return with the Lakers next season. "It's tough because of the lockout situation because we don't know what the heck is going to happen with that," Bryant said. "We know how Phil feels about that, sitting out a year, and all this other stuff or whatever it may be. It's kind of looming on top of us and it's a hard sell.
"When he told me he was coming back, the reason he gave me for coming back is that 11 is just such a weird number. 12 is just a nice even number and that should be something that he can walk away with. Him coming back for 13, I just don't see him doing that."