Oklahoma City Thunder point guard Russell Westbrook should win the NBA's Most Improved Player Award. Posted by Ben Golliver.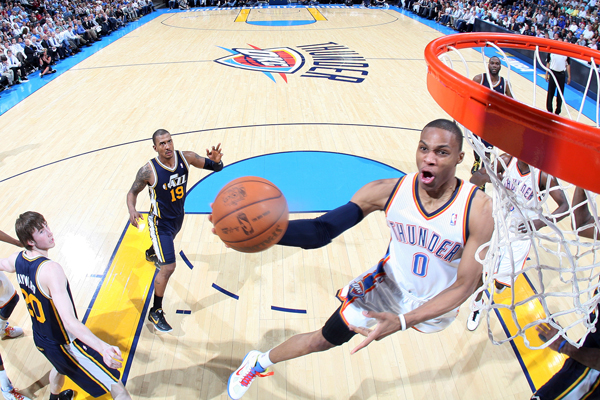 The NBA's Most Improved Player Award is as flawed and subjective as the rest of the league's year-end awards, perhaps more so because it's so widely open to interpretation. Is this given to the role player who breaks out once he's given starter's minutes? The starter who makes the leap to stardom? The guy who puts up the biggest raw number increases? The player who takes a significant step forward in his efficiencies? All are possibilities, as a change of scenery, new offensive system or coach, an expanded role and raw skill development all can fall under the subjective umbrella of "Improvement."
But all improvement in the NBA should not be created equal. The easiest trap to fall into with this award is to confuse opportunity with improvement. Last year's MIP, Aaron Brooks, is the perfect example: He significantly ramped up his numbers given tons more minutes, but then came flying straight back to earth this season once the minutes evaporated. Certainly Brooks got better last year. But what impact did it really have? The Rockets didn't make the playoffs and they didn't even bother to seriously consider offering him a contract extension before trading him after he turned into a Grade-A head case this season. We're supposed to get excited and dedicate an entire award to that?
If we must have an award to recognize improvement, it should go to the player whose development has positively impacted his team's identity and league-wide standing. A player whose progress represents sustainable development that will prevent him from being a flash in the pan. A player who is likely to figure into the league's future, not a role player whose impact will fluctuate if he changes teams or coaches.
NBA.com did an excellent job breaking down which players took the biggest statistical jumps this season, whether by points scored or overall efficiency. The lists are dominated by players on lottery teams: Dorell Wright, Nick Young, DeMar DeRozan, D.J. Augustin, Kevin Love and Daniel Gibson. With the possible exception of Love, it's difficult to be certain that any of these candidates will be able to sustain their growth over the long haul. All were asked to play heavy minutes and take on a heavy scoring burden on incomplete teams. While all have shown personal growth, their steps forward owe too much to opportunity and, in Love's case, pace.
Two names on those lists, however, do stick out: Portland guard Wesley Matthews and Oklahoma City guard Russell Westbrook. Matthews, like many of the others, has taken on a new role that requires additional scoring from him, as he was signed by the Portland Trail Blazers and asked to start at shooting guard due to injuries to Brandon Roy, upping his scoring average from 9.4 to 15.9 and improving his rebounding, assist and steal numbers as well. Matthews flourished in that role, helping power the Blazers to the post-season, but he didn't do it alone. Blazers power forward LaMarcus Aldridge also broke out in Roy's absence, upping his scoring from 17.9 to a career-high 21.9 and grabbing 8.6 rebounds per game, also a career-high, while playing nearly forty minutes a night.
Aldridge's improvement was the bigger deal for Portland. His emergence as a number one scoring option engineered the Blazers offense and made life easier on Matthews and Portland's other wings. His statistical run in advance of the All-Star break won't soon be forgotten – as he set new career-highs multiple times – and became what LeBron James called the "biggest All-Star snub of all time." Unfortunately, Aldridge's development was not enough to take Portland to new heights. After winning 54 games two seasons ago and slipping to 50 wins last year, the Blazers are headed for the mid-40s in wins this season. Aldridge prevented the bottom from falling out but, through no real fault of his own, his play didn't prove to be transformative on a league-wise scale this season.
Westbrook, however, hits all of the established criteria that Matthews and Aldridge did, and more.
Oklahoma City's third-year point guard raised his scoring more than all seven players in the NBA, from 16.9 to 22.7 points, a remarkable uptick. Unlike many players in that situation, including Matthews, Westbrook did it by becoming a significantly more efficient shooter. Westbrook has improved his at-rim shooting percentage by nearly eight percentage points and he's improved his three-point effective field goal percentage by an astonishing 15.6%. He's also getting to the line more than seven times a game, a game-changing increase over last year. Taken together, Westbrook has improved his shooting, his shot selection and his ability to get free points. What more do you want from a guy who, his critics said, couldn't be trusted to hit a shot early in his career?
He's also doing all of that while also improving his assist totals and serving as the number two offensive option on his team – behind the NBA's leading scorer, Kevin Durant, of course. His increase in personal production hasn't come at the expense of others, a critical factor when evaluating a point guard's impact on winning.
To truly appreciate the impact of Westbrook's overall efficiency improvement, check his PER rankings. As a rookie, Westbrook was the 21st rated point guard in the league, below average. Last season, Westbrook was 11th, slightly above average for a starter. This season? Westbrook is the No. 2 rated point guard – trailing only Chris Paul – and the No. 9 player in the entire league. Overall, he jumped from No. 57 to No. 9. This is simply ridiculous. None of this year's other top 10 players – LeBron James, Dwight Howard, Dwyane Wade, Kevin Love, Chris Paul, Kobe Bryant, Kevin Durant, Dirk Nowitzki and Paul Gasol – was rated lower than no. 22 last season. Westbrook cracked the insanely selective elite of the elite when it comes to efficiency, and he managed to do it in one offseason.
This giant leap forward not only made him an All-Star for the first time this year, it has defined Oklahoma City's season and future. His emergence as a superstar will push OKC from 50 wins last year to the mid-50s and a Northwest Division title this year, and it gave GM Sam Presti the confidence to take the plunge on a franchise-altering trade for center Kendrick Perkins at the deadline, as he could be confident that he had two franchise building blocks that seamlessly fit together from which to build around. Westbrook's improvement makes the Thunder the most feared team in the West this season -- outside of the Lakers, of course – and it makes them, on paper, a sure-fire Western Conference contender for the next 5-10 years.
Taken together, Russell Westbrook has improved his skills, bumped his numbers, carried his team to new heights and he's done it in a way that seems sustainable for years to come. That's everything – and more – that I ask of my NBA MIP. Give the man his trophy.