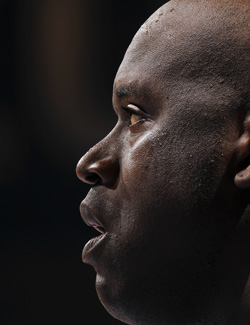 Posted by Royce Young
First,
it was April 1
for
Shaquille O'Neal
to return. Well, that's today and he's not playing.
Next it was possibly April 5.
Still a chance of that,
by the way Doc Rivers sounded speaking to CSN New England,
the
Celtics
are just hoping he ca be back for the playoffs.
"I really hope we can get him before the playoffs," said Rivers, who added that the injury is starting to "get close to bleeding" into the teams' postseason plans.

While the C's maintain there hasn't been any setback, they do say it has taken longer to heal than anticipated (isn't that a setback?)….

"The good thing with him is that he's still big and strong," Rivers said. "But that (not playing until the playoffs) would be difficult."
Maybe we all got our O'Neals confused. Jermaine is set to return soon, so maybe people just got it all messed up. But this isn't encouraging news for the Celtics who desperately need a paint presence right now. Hoping for a playoff return doesn't exactly sound all that great. Shaq's achilles has kept him out for almost 25 games now and if he doesn't return until the playoffs, he won't have played in almost two months.
For a 39-year-old that isn't light on his feet, I would assume some rust and conditioning issues could pop up. Not exactly something you want starting the playoffs off with.
At some point, Shaq will play again for the Celtics. But right now, each time it sounds like he has a return date, it gets pushed back. The Celtics say there hasn't been a setback, but if not, why is it taking so long? The original timetable had him back in late March and now maybe he'll be back by mid-April? For Boston who is slipping after trading a championship tested center in
Kendrick Perkins
, this type of information surely isn't comforting.