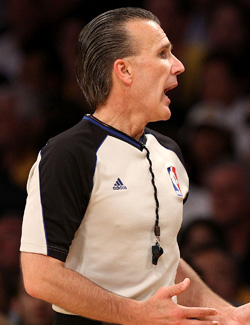 Multiple ejections in Thunder-Suns game brings questions regarding comments to players from officials.
Posted by Matt Moore
Was it a full-moon last night? What in tarnation got into everyone Wednesday night? After
John Wall
and
Zydrunas Ilgauskas
were through tussling, some hijinx came-a-calling in the
Suns
-Thunder game.
The Thunder and Suns were in a close game going into the fourth. It was 79-73 going into the final frame, and the Suns had hung the whole way. Then, they stopped hanging. And they plummeted off the cliff and then crashed into the canyons below, even making a Wile-E.-Coyote-like "poof" when they hit the floor. After the Thunder had ran the Suns off the face of the planet, several of the Suns had some... issues with the officiating, and found themselves on the way to the locker room early.
Okay, frustrated team has a few guys tossed in a blowout. No big deal, right?
The issue stems from what referee Ken Mauer reportedly said which led to Suns reserve's
Zabian Dowdell
's initial ejection and
Aaron Brooks
' subsequent removal. John Gambadoro of 620 KTAR in Phoenix reports that Ken Mauer
allegedly called Dodwell a small female dog
.
Dowdell didn't like that too much.
Dowdell responded by
asking if Mauer would call him that off the court
, which is, not surprisingly, similar to "You wanna call me that outside?" and Mauer booted him.
Dowdell was shocked at the reaction
, saying he hadn't seen anything like that before in any league he's played in. As for Brooks, he ... ah, as the Thunder announcer put it, "
struck a certain pose
." Brooks getting tossed is no biggie, he's had trouble with the officials throughout the season. Dowdell is a different matter.
More importantly, though, if the report is true and Mauer did refer to Dowdell that way, that's a problem. That's an official using language which could incite a player to get tossed. This is not a great time for the league to be dealing with this, with the playoffs fast approaching. We'll keep an eye on if any ramifications come from the incident.
(HT:
PBT
)