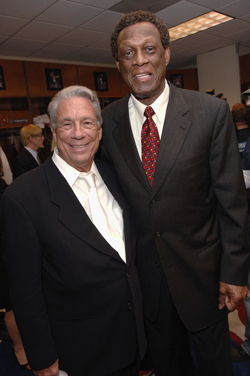 A California court has rejected former Los Angeles Clippers GM Elgin Baylor's lawsuit against his former team. Posted by Ben Golliver.
Update 5:53 p.m.:
The Clippers released the following statement, which is just about as smug as you're going to get.
Following is a statement from Los Angeles Clippers' General Counsel Robert H. Platt, concerning today's legal decision:
Today's verdict was inevitable and it represents a complete vindication of all of the baseless claims asserted by Mr. Baylor.
For more than two years, Mr. Baylor's counsel has gone to extraordinary lengths in a fruitless effort to fabricate a case. This was a case of FIRE!, ready, aim. The jury saw through their baseless rhetoric and quickly realized that there were no facts to support any of Mr. Baylor's allegations.
Mr. Baylor initially sued the NBA, only to dismiss the League on the eve of trial in exchange for the League agreeing not to pursue a malicious prosecution case against Mr. Baylor.
In addition, Mr. Baylor and his lawyers held a loud press conference claiming race discrimination. However, the Court threw out Mr. Baylor's meritless race claims just one day before the trial was set to begin.
Solely on principle, my clients refused to settle this lawsuit despite having the opportunity to do so. Even when faced with endless, public, malicious attacks, they were resolute in their demand that they be fully exonerated by a jury. That moment has now come.
My clients are to be credited for their willingness to see this through. Personally I am gratified to know that this was a day on which justice was well-served.
The Los Angeles Times reports
that a California jury has unanimously rejected a lawsuit brought by former Los Angeles Clippers GM Elgin Baylor against his former team. Baylor had been suing for millions in damages steeming from "age discrimination" and "harassment."
A Los Angeles County jury Wednesday declined to award damages to NBA great Elgin Baylor, rejecting his lawsuit against the Clippers for unlawful termination based on age discrimination.
By a 12-0 vote, the seven-man, five-woman jury informed Judge Kenneth R. Freeman that neither the team nor owner Donald T. Sterling or president Andy Roeser presided over a hostile workplace in which alleged harassment occurred.
Baylor, 76, the Clippers' 22-year head of player personnel as general manager and executive vice president, was asking for nearly $2 million in economic and mental distress damages over his 2008 departure from the team.
Here's an outline
of some of Baylor's allegations against Clippers owner Donald Sterling.
During the lawsuit's court proceedings
, Sterling said that he didn't know who Baylor, a basketball Hall of Famer, was when he originally hired him to run the team.
Complaints against Sterling as an employer and business owner have accumulated over the years and he made national headlines this year when he
heckled his team's point guard
,
Baron Davis
, from his courtside seats. Nevertheless, Sterling is a bit of a Teflon Don, finding ways to skate out of legal predicaments over and over again.