New York Knicks forward Carmelo Anthony gets a giant billboard in Manhattan. Posted by Ben Golliver.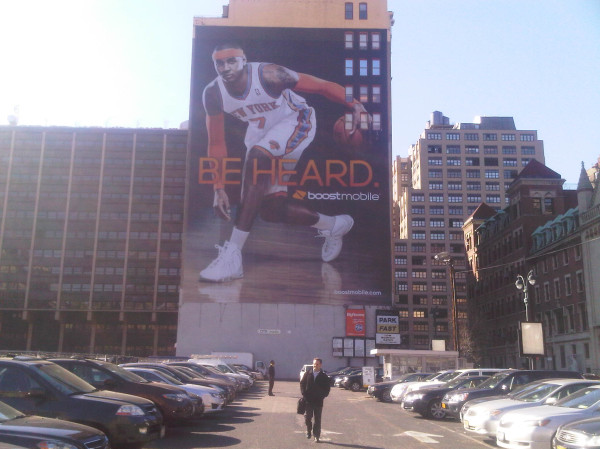 Everything is bigger in the Big Apple, even the advertisements.
In the latest sign that being a star in Denver just isn't the same as being a star in New York City, Knicks forward Carmelo Anthony was on hand as wireless phone company Boost Mobile unveiled a giant billboard in Manhattan bearing his likeness and the words "Be Heard."
The New York Daily News reports
that the size and location of the billboard left Anthony speechless.
As big as Carmelo Anthony played for the Knicks in Monday's crucial overtime win over the Orlando Magic, he loomed much larger Tuesday when Boost Mobile unveiled a 128-foot billboard of the All-Star two blocks from the Garden. The endorsement deal with the wireless provider is Anthony's first since being acquired from the Denver Nuggets last month.
But it's not his first Manhattan billboard. His ad for Brand Jordan is on 34th and Seventh Ave., the same spot where there was an ad for LeBron James last season. "It was crazy for me to see the Jordan one," Anthony said. "It was right there in the middle of everything. Then to see this one, I can't really put it into words."

Just imagine how big the billboards will be if Anthony ever gets the Knicks above .500!
The allure of big markers -- and the opportunities that go with them -- is never more obvious than when you're staring at a mural that's 12 times taller than a basketball hoop and located in the middle of one of the world's busiest neighborhoods. Sometimes it takes something as gigantic and garish as this to put the superstar lifestyle into perspective.
Photo via @DimeMag on Twitter
.