Miami Heat forward Udonis Haslem might still be a month away from a return to the court. Posted by Ben Golliver.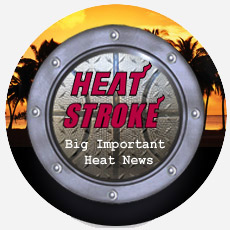 When you lose
to the Cleveland
Cavaliers
, you start looking around for any possible sign of help or hope. For the Miami Heat, the ultimate reinforcement is power forward Udonis Haslem, a locker room leader and on-court tough guy who does all the things that
Chris Bosh
tries to do but can't, such as rebounding and interior defense.
Back in November
, Haslem tore a ligament in his foot and was hoping to return by April. Unfortunately, the Miami Herald reports that Haslem might not make it back to the court until May.
Heat forward Udonis Haslem is progressing faster than even he expected, but coach Erik Spoelstra indicated Tuesday that Haslem's return still might be a month away.
"We'll just have to see how the next month goes and then reevaluate," Spoelstra said. "Only he can tell us how his foot and body is responding. We're having daily discussions with the training staff. None of us really know at this point."
In Haslem's absence, the Heat have been forced to shift their lineups -- playing Bosh in the middle,
LeBron James
at the power forward spot -- and to rely on aging big men like
Juwan Howard
and
Zydrunas Ilgauskas
. That's not exactly a winning playoff formula, and even a limited Haslem would help in a big way, especially given that the top Eastern Conference teams -- the Chicago
Bulls
, Boston
Celtics
and Orlando
Magic
-- all have quality, physical bigs.
Through Wednesday, Miami was the Eastern Conference's No. 3 seed and set to face the Philadelphia
76ers
if the playoffs began today. A one-month timetable would mean Haslem would be set to make his return during the second round of the NBA playoffs, which could be a potential match-up with the Celtics. That's assuming the Heat advance, of course, which is no guarantee when you're dropping games to the worst team in the league.