Ken Berger of CBSSports.com reports that there are currently no meetings set between the NBA owners and players to discuss a new Collective Bargaining Agreement. Posted by Ben Golliver.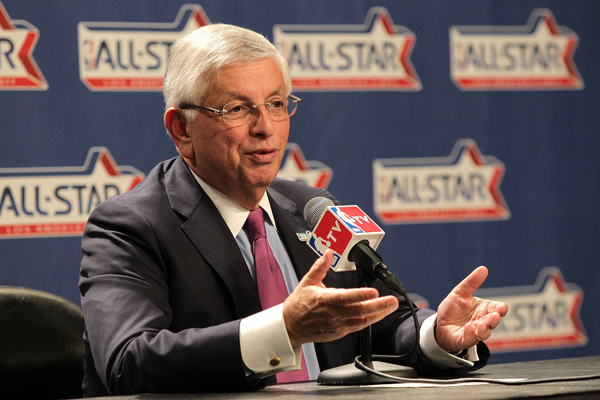 During the All-Star break back in February, NBA commissioner David Stern gave his annual state of the union address. Much of the statement and questions afterwards concerned the league's negotiation of a new Collective Bargaining Agreement with the National Basketball Players Association. At the time, Stern said it was possible there would be a work stoppage next season, but he did give fans hope: he repeatedly said the two sides were committed to meeting with each other to advance the negotiations.
Indeed, on at least four separate occasions, Stern referenced meetings. "In yesterday's session, I would say it's fair to say that we are setting up the next meetings," Stern said. Later, he added, "I think in a very positive vein, we each agreed, the union and the teams agreed that you know everything was available to be discussed, and that we would set up a series of meetings and discuss away so that by the time the agreement currently in effect expires on June 30th, we will hopefully be able to assure our fans that we did all we could possibly do to have a replacement agreement in effect, and that's our intention, to work as hard as possible to cause that to occur."
Stern further added: "The established order, the way we do things, is we go back to New York and we start setting up meetings. Probably first in small groups to go over certain that's where I become, quote, staff; the small groups of the staff meet with the union staff, and then at the appropriate time, we bring in the principles, which are the player representatives, and the owners or members that we expect there to be. And it's also allowable to let the lawyers talk to each other, and it's okay to talk on the telephone to go over issues, as well. There's no specific
Magic
to how it gets done. But I think the most important thing is that there be continued communication and the building of trust."
One of Stern's final comments: "We are looking forward to the meetings that we are planning to schedule with the union."
The repeated nature of the comments regarding meetings provided hope, as it showed a willingness to commit to a process publicly.
Unfortunately,
Ken Berger of CBSSports.com reports
that, more than a month later, no meetings have taken place and no meetings are scheduled!
With three months to go before the CBA expires, it isn't clear when the two sides will meet next. There have been no formal bargaining sessions since All-Star weekend, and even that session was more for show than for negotiation. Sources say there has been discussion of a possible face-to-face meeting involving Hunter, his top legal deputies, commissioner David Stern, and deputy commissioner Adam Silver sometime around the next scheduled Board of Governors meeting in mid-April in New York. A league spokesman, however, said no such meeting has been scheduled.
Though the owners' labor relations committee, chaired by Spurs owner Peter Holt, met last week in New York, there are no indications as to when -- or even if -- the owners will ever submit a second formal proposal before the current deal expires June 30. The only offer on the table from the NBA came in January 2010, when owners proposed a $45 million hard cap and $750 million to $800 million in salary rollbacks for the players. The union countered July 1 by offering to negotiate a reduction in the players' 57 percent share of basketball-related income (BRI). But Hunter said if owners don't submit another proposal, they shouldn't hold their breath for him to counter his own.
"We're not inclined to negotiate against ourselves," Hunter said.
There have been all sorts of signs that point to brewing trouble between the sides recently, including Hunter's
more aggressive public stance
in recent weeks. But a total lack of dialogue is the single most troubling thing that NBA fans can hear. Agreements can only be reached after negotiations, and negotiations can only happen at meetings. No meetings, no agreement, no basketball.
More than a month ago, NBA fans were promised meetings. They deserve a transparent update from the league on what happened to the goal of "continued communication."