In the past year, things have changed dramatically for two franchises that meet Tuesday night, the Cavaliers and Heat. But in reality, what does Tuesday night's game really mean?
Posted by Matt Moore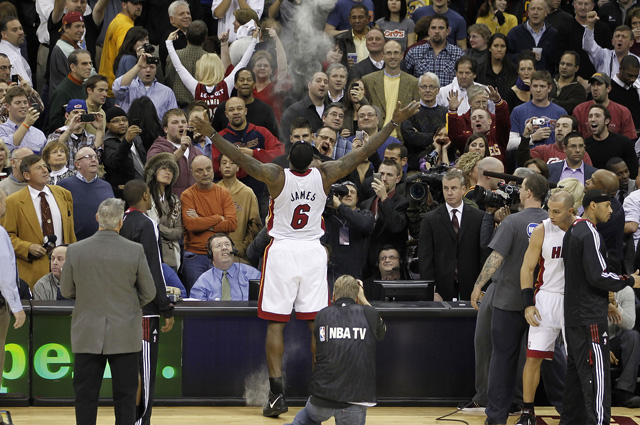 365 days ago
LeBron James
was a member of the Cleveland Cavaliers. He was enjoying an off day as the Cavs were in the middle of winning 10 out of 11 games. They were the top seed in the East, on their way to locking up that advantage throughout the playoffs. After years of progress building towards an elite club centered around James, through trade after trade of subpar role players to decent role players to slightly above average role players, with nary a star among them, the Cavs thought they had it. It was there. They had beaten the
Lakers
, split with the
Celtics
and
Magic
. It was their time. James' free agency was on the horizon, but nothing to concern themselves with now. Win the playoffs. Win the championship. Give James a reason to stay, the memories of how great the year before had been. Do the job, and then worry about the future. No one thought James was leaving Cleveland. Not really. Experts you'd talk to all said the same things. Sure, New York, Chicago, L.A., Miami all would have good cases to make for why James should join them. But James wasn't leaving. It was unthinkable. This was March 29th of 2010.
365 days ago
Dwyane Wade
was a member of the Miami Heat. He was enjoying an off day as the Heat were in the midst of a nine-game winning streak. The Heat were a top five team in the East. Dwyane Wade was shouldering the load of a pretty terrible team all on his own. The Heat were putting in the effort, going through the motions, and saying all the right things. But in reality, they were just another Eastern Conference stand-in. They weren't terrible, weren't first-round fodder (or so they thought). They had built around Wade, and their second overall pick (many will forget that they were the top lottery team the year the
Bulls
landed a point guard out of Memphis despite terrible lottery odds)
Michael Beasley
, along with role players like
Udonis Haslem
. They had little hope to make a run in the playoffs, but you never know. With stout defense, maybe things would change, but the reality was, everyone knew different. This team was going nowhere and their only real hope was to make an unprecedented move in the offseason to secure a superstar to pair with Dwyane Wade. But look at what was left of that roster. Who would possibly commit there in the biggest free agency period in history? It was unthinkable. This was March 29th of 2010.
This is March 29th of 2011. And everything is different, and nothing is different. The Cavaliers still hold the same history of sports ignominy, it's simply been magnified in a season of exceptional failure masked in a terrible-but-not-that-bad record. James' departure surely incinerated the franchise's hopes of greatness, but the absence of what he was supposed to have brought echoes stronger than the disaster his absence has created. The Heat are still a playoff team, but are still nothing to write home about, nothing to alert the record books about, nothing to hold up as a force of change in the course of NBA history. Things are different. But little has changed.
The Cavaliers are a mass of burning wreckage seldom seen in the NBA. They set the record for consecutive losses for an NBA team earlier this season and have a two-game lead on Minnesota for the top spot in the lottery. They have no championship from the LeBron James era. The giant banner that hung across the street with James' likeness is gone. James is gone.
Mo Williams
,
Shaquille O'Neal
,
Delonte West
,
Jamario Moon
,
Leon Powe
, the list goes on and on. They still had the third highest attendance rate this year thanks to ticket buyers who invested in their trust in James, or wanted to support the team after his perceived betrayal. They are a terrible team, with a high pick in a weak draft, no superstar, in a downtrodden city that's been downtrodden for far too long, its citizens still desperate to quench a sports thirst that is constantly treated with a kick of dirt to the face. They have nothing to play for Tuesday night against the Heat, except their pride, which is a little silly considering it will be their 15th win of the season and prove absolutely nothing. Losing may help their lottery stock, but as we've seen far too often, and Miami officials could share with them, too often the top lottery team does not get the top lottery spot. That's why it's a lottery. This game means nothing for the Cavs.
The Heat are much like a speeding train on fire. It's pretty to look at, and going at an impressive velocity, but you're still concerned that it's, you know, on fire. They moved into a tie with the Boston Celtics on Monday night as the Celtics continue to show that it doesn't matter how good you are, you can still roll into an avalanche of disrepair if you truly stop caring about the regular season. On one end they have the top point differential in the league, the third best offensive efficiency, the fifth best defensive efficiency, and the top efficiency differential. They have three elite players in the league, at least if you judge them by their careers prior to 2011. They have a strong cast of role players, and have started to work LeBron James and Dwyane Wade effectively together. And they have been blasted by every contender outside of the Lakers who for some reason, cannot seem to best LeBron lately. The Celtics and Bulls, in particular, who they will be unable to avoid in the playoffs barring a dramatic turn of events, have owned them as if they had actually put down cash for stakes in the Heat. Every time they seem to have gotten their act together, they either go on a prolific losing streak, or get clobbered by an elite defensive team. But they can beat lottery teams. They've proven that. That's how they have such great team stats. They dominate terrible teams, teams like the Cavaliers. Everyone knows they can beat the Cavs, that they in all likelihood will beat the Cavs, and no one cares. Beating the Cavaliers means nothing to the Heat. It's just another game. It neither assures a seed for them, nor proves a point, as LeBron made the first meeting between the two teams an exercise in how the NBA is not a land for Cinderellas, wild cards, or the underdog. It is a brutal, post-apocalyptic wasteland dominated by superstars, of which the Cavs have none. This game means nothing to the Heat.
But we care, because we're sports fans, and we love good stories. And should the Cavs pull out the most improbably of victories, it will serve as a shining win in a bleak sea of garbage. It will make all those who have questioned James' moral fiber feel good, as if there's some level of karma in the world, and that those who act in disappointing ways eventually get what's coming to them. If what's coming them is a meaningless loss among 82 games on a random night in March when everyone's burning the kindling material their NCAA brackets have become. This game is good drama, even if the first meeting sucked the life out of this storyline like the giant maid robot the ship turns into in Spaceballs. It means something to night, for the next few hours.
But it's important to look at this game, to examine it and see that even though the concept of James' failures have been exaggerated and extrapolated into some sort of bizarre Aesop's fable about right and wrong in a world where athletes are routinely arrested for genuinely disgusting offenses, that there is a legacy being formed here. He was supposed to build something special in Cleveland, to take them to the promised land. He was the hometown (well, home state) hero, the franchise, the legacy, the player fans touted as the greatest. He was supposed to give them something special. That was the promise written in his play, in his box scores, in his highlights. He gave them pain as sports fans, downturn as an economic entity, and a horrific basketball team to watch through 82 games like the one taking place Tuesday night. James was supposed to give Miami something special, to rewrite history with a combination of star talent in their primes rarely, if ever seen, in the history of the NBA. He was supposed to lead a charge at 72 wins, redefine basketball as it is meant to be played, make Miami the center of the basketball universe and throw down alley oops from the far side of the moon while creating the global empire he's long sought. Instead, the Heat are just another playoff team that seems to be waiting their end in the postseason to Boston, a familiar fate for both the Heat franchise and James himself. If it's Chicago, then, that's simply Thibodeau doing the work he did previously for the Green. The Heat sometimes are a great team, a powerful team, full of promise and ability. Most of the time, however, they're just another team. Just another playoff contender with some star power, a weak bench, some questionable coaching, some chemistry issues, and an inability to topple the elite teams in the league.
The Heat aren't a complete failure and the Cavaliers aren't the worst team in NBA history, technically. The Heat have had substantial failures, and the Cavs have set records for futility. But in reality, they're just teams. Nothing special. And that may be the biggest indictment of James of all.
James may make another statement Tuesday night, about his superiority from a skill, ability, and experience standpoint. He may deliver the knockout blow and sit most of the fourth. But it won't change the reality of his struggles in Miami. And the Cavs could conceivably buckle up, play with heart, energy, and fire, and beat a team that's sailing towards the postseason. It would be a glorious act of revenge that would make headlines for about twelve hours. But then they're back to being the Cavaliers, the worst team in the league, stumbling towards a high pick in a bad draft, still hurting over the departure of the favorite son.
It's been 365 days, and nothing is the same in Miami, in Cleveland. How will things be in another 365 days?