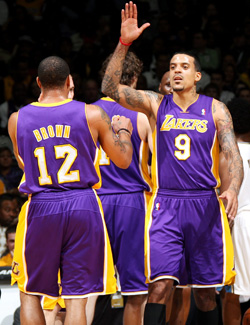 Posted by Royce Young
There are a lot of reasons people in Los Angeles don't want the
Kings
to move next door. But probably the best one? Money.
Phil Jackson already mentioned
how he doesn't see how a metropolitan area could support three professional teams, but that's mainly an issue for the Kings. Because the
Lakers
will get their support. With
Blake Griffin
, so will the
Clippers
.
But that doesn't mean they'll lose some money. Especially the Lakers in regard to their giant new television deal.
From ESPN LA:
"Although finances of the deal were not released, some reports at the time pegged the value of the pact at $3 billion, a figure Time Warner Cable and the Lakers have since refuted. If a third NBA team moves into the market, however, the Lakers' television deal will decrease by about just under 10 percent ...

The Lakers' agreement, which begins with the 2012-13 season and covers all preseason, regular-season and postseason games not nationally telecast, was viewed as a major blow for current rights holders Fox Sports West and KCAL-TV. The Kings, however, could lessen that blow and create competition for viewers and fans in Orange County if they filled the void left by the Lakers on both outlets."

Nobody likes the split a pie three ways when it only has to be done two. If the Lakers had it their way, the Clippers would be booted out of the city too, but that's not happening. So you can imagine how they feel about a third party moving in down the street.
What you're seeing here with this whole Kings relocation thing is a bunch of negatives without a whole lot of positives. I honestly haven't seen a story yet revealing all the benefits of the Kings move. Yeah the arena in Anaheim is nicer than the place formerly known as Arco, but it's still 17 years old.
Both the Lakers and Clippers are reportedly very much against the move and have even explored options to block it, but it doesn't appear they'll be able to.
Between the lack of a waiting fanbase, the competition between the Clippers and Lakers, the loyalty of Sacramento fans, the
Anaheim Angles owner questioning it
and now people are losing money, why move? It's a question I keep asking myself, but one that the Maloofs evidently don't care about.