New York Knicks president Donnie Walsh says he is to blame for the team's recent struggles. Posted by Ben Golliver.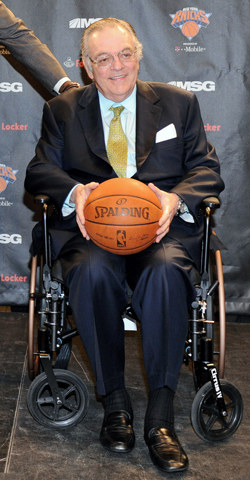 The New York Knicks are an absolute disaster, 1-9 in their last 10 games and losers of six straight, and the finger-pointing is reaching a crescendo.
Carmelo Anthony
isn't a team player! It's Mike D'Antoni's systems!
Amar'e Stoudemire
needs to step up! And on and on and on.
Thankfully, one person in this mess is willing to accept responsibility: Knicks president Donnie Walsh.
Walsh tells the New York Post
that the team's recent struggles since a trade deadline move that brought Anthony to the Big Apple from the Denver
Nuggets
are his "responsibility" and that D'Antoni shouldn't be blamed for failing to put the pieces together in the short term.
Walsh said the collapse is not on coach Mike D'Antoni.
"I think it's very little [on him]," Walsh said. "It's very difficult to put these pieces back together in a short time. That's why it's more my responsibility. That's why I rarely trade in the middle of the season, because it's a big adjustment. But I made it because it's better for the franchise long term.
"Though it's a future trade, I realized it would be a major disruption, and it's hard to get back to where it was. I liked the team we had before. But I didn't think we were going to win the championship."
Given the circumstances, this is absolutely the right move for Walsh, as New York's problems clearly run deeper than simple rotation fixes or locker room chemistry. A recallibration of expectations from management was necessary and some short-term cover for D'Antoni doesn't hurt anything.
Eventually, though, the Knicks will come to the point where buying time is no longer a sufficient company line. Think about it: if expectations are this high now, what will they look like come training camp?
Things are ugly in New York now, but it's important to remember that if next season begins like this one has ended, things could will be
a lot
worse.