University of North Carolina freshman Harrison Barnes is noncommittal in discussing whether he'll enter the NBA Draft. Posted by Ben Golliver.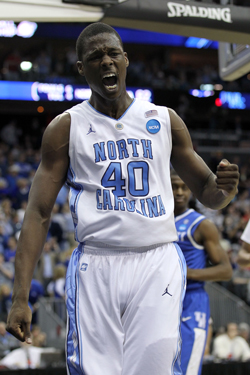 An up and down year for University of North Carolina freshman Harrison Barnes ended in the Elite Eight on Sunday, when the University of Kentucky Wildcats sent the Tar Heels packing.
Barnes, currently ranked as the No. 4 prospect should he enter the 2011 NBA Draft, was
asked by the Des Moines Register
whether or not he had considered leaving school to pursue his professional career.
"I'm not thinking about the NBA," he said, quietly.
Do you know what you're doing next year?
"You know, that's not really something that I'm thinking about. I had the last two seasons end on championships (at Ames). The last time I felt like this was my sophomore year (of high school). That's the only thing that's on my mind right now."
Do you know when you'll make your decision?
"All I can say is — it won't be today."
Barnes was regarded as the most pro-ready prospect coming out of high school last season, a polished scorer with a maturity greater than his age and a shooting stroke that looks like it's taken decades to perfect. It's difficult to envision Barnes, who averaged 15.7 points and 5.8 rebounds, slipping out of the top five of this year's draft. However, any player at a stable, top-flight program like Carolina is going to be tempted to enjoy college for a year while the NBA sorts out its lockout drama.
The deadline for NCAA underclassmen to enter the NBA Draft is April 24, so Barnes has almost a month to make up his mind. He's smart to take his time to make the decision as the emotions that go with a season-ending loss should not influence a player's decision regarding his future in basketball.
Remember: Barnes got off to a relatively slow start last fall and is still regarded as a top five draft prospect. His ceiling if he decides to return and things go more smoothly the second time through is limitless. He would most likely be the odds-on favorite to be the top overall pick in 2012, although his competition could include Ohio State freshman big man Jared Sullinger, who
said he was staying
for another year over the weekend.