The Miami Heat's Big 3 make history, the Los Angeles Lakers could take a big financial hit, Russell Westbrook went big, the Portland Trail Blazers contemplate change and the New York Knicks make changes to their schedule. Posted by Ben Golliver.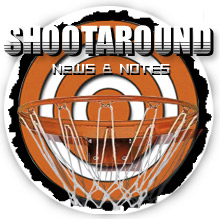 The New York Times reports that the struggling Knicks are trying everything -- including making changes to their schedule's standard operating procedures -- to try to turn things around.
The L.A. Times reports that Los Angeles Lakers forward Lamar Odom sounds kind of excited about potentially winning the NBA's Sixth Man Award. "It would be a great accomplishment," he said. "I never would have seen myself four or five years ago coming off the bench."
Oklahoma City Thunder Russell Westbrook was huge -- absolutely huge -- in a Sunday night win over the Portland Trail Blazers, sticking a three-pointer to ice it in the game's closing minutes. His coach Scott Brooks' take, according to The Oklahoman: "They were big shots. I'm not going to sit up here and say they were great shots, but they were big shots."
ESPNLA.com says the Lakers could lose roughly 10% of their reported $3 billion cable TV deal if the Sacramento Kings move to Anaheim.
NetsDaily.com interviews Dmitry Razumov, "indispensable man" to New Jersey Nets owner Mikhail Prokhorov. "I've closed many deals during my career," Razumov tells NetsDaily. "My proudest moments with the Nets so far have been when we closed the deal and the Deron trade."