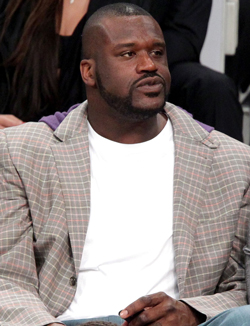 Posted by Royce Young
Are you going to be shocked --
shocked,
I say -- if word is
Shaquille O'Neal
won't return by April 1,
as was reported earlier in the week?
Because according to Doc Rivers, he doesn't see that happening.
"[Shaq coming on the road trip is] a possibility, I actually heard that there's a chance, but I don't expect it," Rivers told ESPN Boston Saturday. "I can tell you I've heard different things. I just think that's too optimistic, in my opinion, just being around the game long enough to know that, when they take the boot off, you usually don't play a day later. And I don't see him flying on the plane, getting the boot off -- I just think that's unrealistic.

"There's a better chance -- when do we come home, next Sunday? There's a better chance there [versus Detroit] and I actually don't think that's realistic. It's more likely the game after that [versus Philadelphia]. That would be our target date for Shaq. And I don't even know if that one is [going to hold firm]."
It's been an on again, off again situation with Shaq and his giant foot the past few months. Shaq has not played since Feb. 1 due to a sore right Achilles tendon, missing 23 games. Shaq recently had a cortizone shot in his foot and was put back in an immobilizing boot.
If O'Neal returns by April 5, he still would have six games to get prepared and in game shape before the first round of the playoffs begin April 16.
A large reason Danny Ainge stamped the approval on trading starting center Kendrick Perkins is because he believes Shaq, once healthy, will be every bit the big man in the middle the Celtics need.
But everyone is still waiting on that day. Now maybe it's April 5. Maybe. It's kind of getting to the point where I'll believe it when I see it.