Tom Thibodeau is the talk of the town in Chicago. But as his Bulls meet the Bucks tonight, he'll face a coach who follows in his model, and should serve as a warning of when to let up on the pedal.
Posted by Matt Moore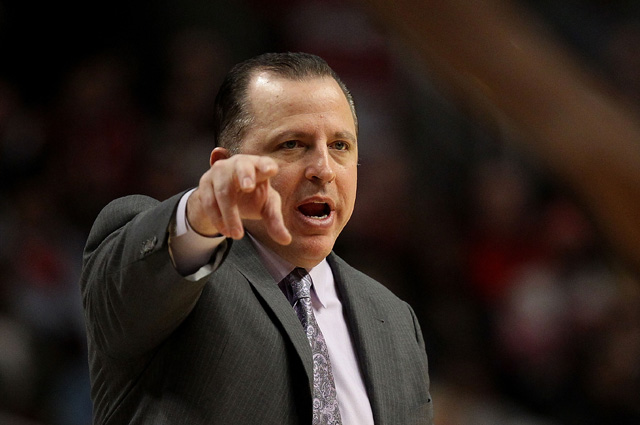 Tom Thibodeau is red hot right now. As much as people credit
Derrick Rose
and his MVP season with the rise of the Bulls, Thibodeau gets the other half of that credit. Consider for a moment that a key starter and heavy-minutes player for Thibodeau is
Carlos Boozer
, who
Marc Gasol
breezed by Friday night in the Bulls' nail-biter win over Memphis. Despite Boozer's defensive shortcomings and Rose's inexperience, the Bulls' defense is tops because of Thibodeau's coaching. It's his system combined with his
notorious intensity
that makes him such a fierce challenge to face across the scorer's table.
But if Thibodeau wants a warning sign about where that intensity can sometimes lead,
he need only look across the table Saturday night
at Scott Skiles, who knows not only the team Thibodeau's coaching, but what can happen when a coach pushes his team to the point where his team tunes out his intensity.
It's forgotten now as all such things are in hindsight, but Skiles was very similar to Thibodeau on the eve of the season opener in 2007. Despite the formation of the Boston Big 3, no one knew how that team would gel. What they did know was that the Bulls had been on the upswing every season and were in line to challenge for the Eastern Conference Finals. They were a young team with talent at multiple positions, a star guard in
Ben Gordon
, and defensive talent out the wazoo. They had toppled the defending champion Miami
Heat
in the first round, and lost to mighty
Pistons
in six games in the semis. 2007-2008 was supposed to be their year, behind stellar guard play and incredible defense led by Skiles' intensity.
Yeah, not so much.
The Bulls plummeted out of the gate and never recovered. It was like watching debris fall of a crashing airplane. You would see bits and pieces and know there was no recovery. By Christmas, actually, on Christmas Eve, Skiles was fired by the Bulls. He had quite simply lost the team. That's the cost of pushing your team verbally and physically. If things start to come undone, they come undone quickly, violently, and are nearly impossible to recover. When things go right for a coach that pushes like that, things are great, you're considered a genius, everyone respects you, and you're lauded as a top-notch disciplinarian coach. When things go badly, you run the risk of your players quitting on you, tuning you out, and once that happens, the effectiveness is over. From there it's just a matter of time until the pink slip comes in the mail.
Hmmm... great guard play... excellent defense... questionable offense... great run in the playoffs spelling a good chance for the future... followed by a plummet out of the gate and an eventually disappointing season in which people start to question if the coach has lost the team. If this sounds like what has gone on in Milwaukee this season to you, congratulations, you're solid at recognizing patterns.
Skiles was supposed to take the Bucks to the next level this season. GM John Hammond loaded up on offensive weapons like
Corey Maggette
and
Drew Gooden
to supplement Skiles' defensive prowess, and with
Andrew Bogut
coming back from surgery and
Brandon Jennings
entering his sophomore season along with a loaded frontline of versatile, athletic defenders, there was no reason to think the Bucks couldn't secure a strong playoff spot and make some progress towards contention. Instead? The offense is somehow, magically, even worse, and it's not all Andrew Bogut's slow-to-heal elbow and the injury woes of Brandon Jennings. The Bucks simply cannot score.
While the Bucks remain a top five team defensively, the offense is second to last in the league. They have never found that extra gear. Even with Bogut's injury, the team had enough talent to contend. This could just be a down year, something they'll bounce back from. But more than one person has suggested that Skiles has already started to lose the team.
Meanwhile, the media can't write enough feel-good pieces about Tom Thibodeau and his intensity leading to the Bulls' incredible season. That their offense is middle of the pack is overlooked in a barrage of "check out what Derrick Rose did" commentary. Things are great for Thibodeau right now, and it's entirely possible that this is the start of the next great career coach for the Bulls. The Bulls winning the title is not outside the realm of possibility.
But as much as the Bulls players may love playing for a coach who is constantly looking to improve, to find new ways to win, and to challenge his guys, there's always that possibility that at some point, it just stops. There aren't warning signs when a team stops listening. There aren't red flags, public comments, and it's impossible to predict when. If it was, Stan Van Gundy would have been fired seventy times by now. It just happens. It may never happen to Thibodeau. But just as he enjoys the good times and looks forward to making the Bulls the best they can possibly be, there's always that shadow of possibility looming overhead that he should keep an eye on. And if he wants to look it in the eye, just look his opponent's coach in the eye after they shake hands Saturday night.