Posted by Royce Young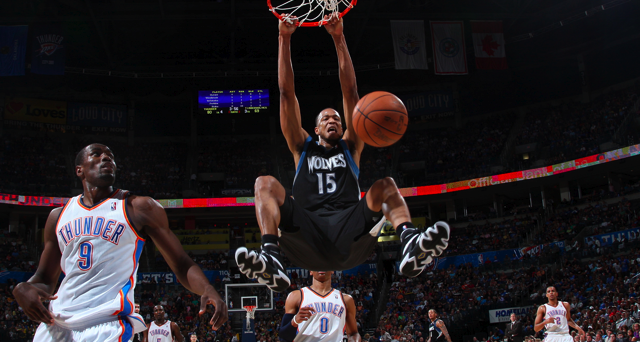 He's held the imaginations of basketball junkies captive the past three seasons. He's shown flashes of brilliance, moments of incredible skill and stretches of terrific basketball. He's been mismanaged, misunderstood and mistreated. He's been benched, traded and traded again.
And he's finally getting another opportunity. This time, it might be one that's helps him turn the corner and find the potential we all know he's capable of.
If you love basketball and aren't fascinated by
Anthony Randolph
, then you may want to re-think yourself.
If you fired up NBA 2K11 and created a player from scratch, you'd probably wind up with something close to Randolph. Even down to the left hand. He's 6-9, long, absurdly athletic, skilled with the ball and can step out and shooter a good 18-foot jumper.
NBA general managers have seen the same thing. The
Warriors
drafted him 14th in 2008 out of LSU, but between Don Nelson's erratic rotations and benchings and the fact Randolph was a bit inconsistent in his own right, Golden State traded him to New York as part of the deal that took
David Lee
out west.
Finally, most thought, in Mike D'Antoni's system Randolph will flourish. He'll settle in behind
Amar'e Stoudemire
and flash his talents in transition. Except Randolph suffered the same fate. He only appeared in 17 games for New York playing at least 20 minutes only once.
David Kahn targeted Randolph in the three-team
Carmelo Anthony
deal and nabbed him at the price of
Corey Brewer
and taking on Eddy Curry's contract. And finally, Randolph was seeing some opportunities. He's been getting routine playing time off the bench, but it wasn't until Love went down with a groin injury a week ago that Randolph saw real opportunity.
And seize it, he has.
Replacing Love in the starting lineup Minnesota's last two games, Randolph put up a career-high 31 points with 11 rebounds against Dallas and then 24 and 15 against Oklahoma City's imposing front line. Wolves coach Kurt Rambis pretty much raved about Randolph's skillset.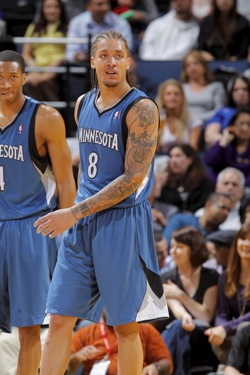 "His versatility. You can see that he can handle the basketball. He can put the ball on the floor, create a shot. He can play in areas that make it very difficult for big people to guard him," he said. "With his length and his athleticsim offensively and his ability to handle the basketball and shoot outside, it makes him a very difficult cover for a lot of big guys in this league.
"We want him to be very active and assertive at the defensive end," Rambis continued. "We see him as someone that can play very good on-ball defense and hopefully come from the weakside and block shots and be very well-versed in pick-and-roll situations and possibly even switch on to smaller people."
It's not the first time Randolph has teased us though. With Golden State, he had multiple, random nights of 28 points, 13 rebounds. It just never all came together for him. But think about this: He's only 21. Sometimes things take time. Sometimes, a new opportunity and a change of scenery helps it start to come together.
Thing is, Randolph has looked comfortable, confident. He's appeared very sure of himself and how he fits in. Against the
Thunder
, Minnesota was running a large amount of their offense through Randolph. He was their option. And it felt good for him.
"I'm going to continue to keep doing what I've been doing," Randolph said. "Even when I wasn't playing, I'm going to continue working hard and go from there.
"I just want to win. Just go out there and play my game, what got me to the league. And I just want to try and win games."
The Wolves have been more competitive than you think they've been at times this year. Yes, they're just 17-56 which is awful, but they've dropped 18 games by six points or less. And seven of those by a single possession. They're a young team that just doesn't know how to win yet.
Randolph has become part of the yearly rebuilding effort around the Wolves. He's not an answer, but he certainly is
something.
Make fun of the Wolves and Kahn all you want, but let's be honest here -- they have talent. Between Love,
Wesley Johnson
,
Michael Beasley
,
Jonny Flynn
and Randolph, there's a core of young, albeit raw, talent there.
That's kind of become the problem though with the Wolves. It's become a collection of raw gifted players without much direction or plan. It almost seems like Kahn's building plan was grabbing players just like Randolph. But that's no good unless you know get a handle on how to use it all, or even better, develop it.
Kevin Durant
came away impressed with the young Wolves Friday night. He said he thought Beasley was the type of player that could lead that young group to the playoffs. Maybe that's just Durant speaking highly of his old friend, but it's not
that
far-fetched.
Think about the Thunder three years ago. A young collection of talent that needed a direction. Granted, the gap between Sam Presti and Kahn is pretty much a Mariana Trench type of thing, but still. Maybe a better example is the
Grizzlies
who just needed a veteran that was ready to put it together like
Zach Randolph
. The Grizzlies were a ship without a rudder two years ago but it's all started to come together a bit with one piece. (And Chris Wallace isn't exactly the best and brightest GM out there either.)
I wouldn't assume that Kahn and the Wolves are counting on Randolph to be a savior or the missing piece (among many missing pieces I guess). But he is something you can build around. The guy has talent. Real talent. He's been held back over the years because inconsistency on his part, low basketball IQ and mismanagement of his talent. Now though, he might be getting it. Maybe. It is just two games. But two
very good
games.
Enough reason for a little optimism in Minnesota if you ask me. You can't dream of Rubio forever.