Boston Celtics forward Kevin Garnett says the team wasn't pleased that coach Doc Rivers called them "soft". Posted by Ben Golliver.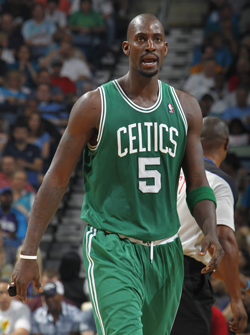 This week,
there were reports
that Boston Celtics coach Doc Rivers had called his notoriously intense and tough-minded team "soft" at halftime of a recent game.
During an interview with Boston radio station WEEI,
transcribed by SportsRadioInterviews.com
, Garnett said the Celtics pushed back against Rivers' message.
"That really wasn't cool at all, but Doc has a way of motivating us in more than one way. He knows how to push buttons and get guys to respond. … If he has something to say to you individually, he'll say it … but I don't think there was a guy in the locker room that was feeling that. We told him after the game, 'Don't ever say nothing like that ever again.'"
Touchy. Touchy. Touchy.
The only way this back-and-forth really matters in the big picture is if Garnett or others in the locker room harbor resentment over the team's trade of
Kendrick Perkins
. Indeed, no one could blame the Celtics for being a little bit defensive at the "soft" label given that they are playing without Perkins, the brutish centerpiece of their defense and rebounding efforts, as well as fellow big men
Shaquille O'Neal
and
Jermaine O'Neal
.
Garnett, however, seems to state that the Perkins trade is fully in the rearview mirror.
"As much as it does hurt, as much as you are emotionally attached, you've got to get over it. … From that standpoint, I think we've all been doing that."
If we take Garnett at his word that everyone has gotten over the Perkins trade -- at least as much as possible -- I'm a little disappointed in the Celtics. It's not like Rivers is clueless when it comes to personality management. This isn't
Pistons
coach John Kuester or anything; Rivers guided the Celtics to a title and generally treats his players with the utmost respect.
Here, he was obviously he was looking to push a button. And, equally obviously, that button pushing prompted the reaction he was looking for. Does Rivers actually believe his team is soft? No, probably not. Is he less than thrilled that they're 5-5 over their last 10 games? That would certainly be understandable, given that the Chicago
Bulls
are now a game up on the Celtics in the race for the Eastern Conference's No. 1 seed.
Considering the circumstances, Rivers just wasn't out of line. No player or group of players, not even a former champion or a trio of future Hall of Famers, is above criticism.