Posted by Royce Young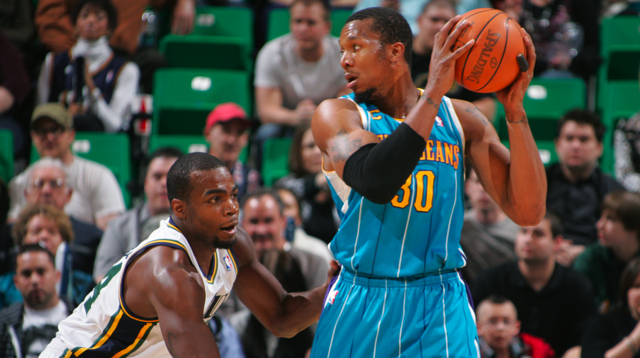 Hopefully I'm jumping the gun here. Hopefully,
David West
didn't suffer a major, serious injury Thursday night against the
Jazz
.
But according to all initial reports and just the way it
looked,
West will likely be out the rest of the season and probably the entire duration of the postseason.
Right now, it's been classified as a "left knee trauma." That last word makes this thing sound pretty scary. He'll have an MRI later today to determine the severity. (
UPDATE:
Reports are that
West tore his ACL
and is done for the remainder of the season and postseason.)
Two questions immediately popped up after West was wheeled to the locker room in a wheelchair: 1) With an early termination option, what's this do to West's desire to opt out and test free agency and 2) are the
Hornets
totally screwed now?
The first question is still a little premature to really delve into because we don't exactly know the extent of the injury and how West's career could be affected. But what we do have a pretty handle on is that West likely won't be appearing in a Hornet uniform this season and that means New Orleans' postseason aspirations have drastically been altered.
Let's not get ahead of ourselves though. Let's not pretend that this was a championship New Orleans team that was destined for an appearance in the Western Finals. It's a good team that pending a favorable matchup could maybe get to the second round and of course with
Chris Paul
and West, be able to push an opponent to six or seven games there. That was the Hornets' immediate future.
Without West though, everything changes. First, CP3 just lost his top target. Gone is his pick-and-pop buddy, the guy the Hornets liked to isolate at the end of games, the guy they liked taking their last second shots. Gone is their second best rebounder and second best interior defender. And gone is their second best
player.
Take the second best player from
any
playoff team and that group is in trouble. Take
Pau Gasol
away from Kobe. Take
Jason Terry
away from Dirk. Take
Russell Westbrook
away from
Kevin Durant
. Things change big time.
And in the Hornets case, things change fundamentally too. Like I said, West was a dynamic option for Paul because the two loved to run a mid-range pick-and-roll/pick-and-pop game. West's backup
Carl Landry
has no ability to do that. He's a terrible jumpshooter. West's range extended nearly to the 3-point line while Landry isn't making anything consistently past the free throw line.
Really, the Hornets might be better served using
Jason Smith
almost equally with Landry. Smith is a decent mid-range shooter (shoots 42 percent from 16-23 feet on 2.8 attempts per game) and in spot time for
Emeka Okafor
, performed pretty well highlighted by a 20-point effort against Washington. Still though, there's no replacing West in the offense. Already the Hornets struggle on that end (20th in offensive efficiency) and without West, all the load goes on Paul to score. Trading
Marcus Thornton
for Landry at the deadline was a good move to provide frontcourt depth, but the Hornets are going to really miss his ability to score these last three weeks.
I'm talking playoff ramifications here, but maybe I'm asking the wrong question. Are the Hornets even going to get there without West? Right now, NOLA sits at seventh in the West at 41-31 which is three games ahead of the streaking
Rockets
. Three games though is a lot to make up in just 10 games. Unfortunately for the Hornets, the schedule isn't easy to finish. Six of the 10 are at home which is nice, but they have games against Phoenix (twice), the
Lakers
, Portland, Memphis (twice), Indiana, Houston, Utah and Dallas. If you'll notice, all 10 of those games are against current playoff teams or .500 clubs (well, Utah is 36-37). Yikes.
I think the Hornets will survive and squeeze into the postseason though, which is something I'm sure the organization desperately is hoping for from a financial standpoint. The Rockets will need to finish with seven out of 10 or so to catch the Hornets and with game against the
Heat
,
76ers
,
Spurs
,
Hawks
,
Mavericks
and suddenly a big one against the Hornets April 6, that'll be tough.
But it'll likely end there for the Hornets. Getting to the postseason will be a task and while advancing was already somewhat of a long-shot, it's most definitely not happening without West. As it stands now, the Hornets would play the Lakers in the opening round and without West, the size of
Andrew Bynum
, Gasol and
Lamar Odom
will entirely overwhelm New Orleans. Really, their best hope for winning a game or two in the playoffs is to slip to eighth and catch the Spurs who they match up with a bit better.
The season may have changed in a big way for the Hornets Thursday night which is a real shame. The team has been an inconsistent mess for a lot of the season, but was finally finding some consistency lately. All of that probably flies out the window with a serious injury to David West.
I'm hoping all this analysis is totally worthless by later this afternoon as West's MRI shows it's not serious. But that's looking unlikely. Which is unfortunate for everyone.