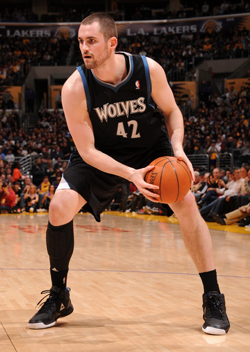 Posted by Royce Young
Kevin Love
was sidelined Thursday against Dallas with a groin injury. He's expected to miss tonight's game versus the
Thunder
as well, but Minnesota coach Kurt Rambis said that there's potential Love could just sit the rest of the season out. He told the Associated Press:
"There is an outside chance, I don't know how great that chance is," Rambis said. "Obviously, with hamstring or groin injuries, you want to be cautious with them because they can linger for a long period of time, and we don't want that to happen with Kevin."

Outside chance, not necessarily real probability. Though it might not be a bad idea.
Ben Golliver wrote earlier in the week
shutting down Love was a possibility and even recommended it. So you can see why Rambis is thinking it too.
You have to keep in mind, when you hear the words "done for the season" it's not always that bad. That phrase typically lends itself to a horrible injury, but there are only about a dozen games left for everyone. And in Minnesota's case, it has 10 completely meaningless games. There's no point in Love playing other than to give Wolves fans a little reason to come to the arena. (Except now there's
Anthony Randolph
! 31 points and 11 rebounds last night!)
Plus, 10 more games means 10 more chances to improve those odds at the No. 1 pick. And with the way Kyrie Irving played in the tournament, you know David Kahn has to be salivating at the chance to get a top five pick to maybe snag him.
Groin injuries can be pesky, but at the same time, if you're healthy, you owe it to your fans to play. Sitting out while healthy just to tank 10 more games for an already miserable season just isn't treating your fanbase well at all. Even if now they get the treat of watching Anthony Randolph.
Love will likely return, but in the meantime, Randolph will continue to start in his steed and for all of us basketball junkies, hopefully he keeps putting up numbers.