The results of the first two rounds of the CBSSports.com Eye On Basketball NBA Tournament Bracket. Posted by Ben Golliver, Matt Moore and Royce Young.
Last week, we kicked off the CBSSports.com Eye On Basketball NBA Tournament Bracket. That's right, we seeded the top 16 teams in the league into four regions of four teams each to set up an NCAA-style win-or-go-home tournament.
It's time to break down the Sweet 16 and Elite 8 rounds so that we can narrow the NBA down to its Final 4. Please note: Teams have access to the players who are expected to be healthy when the real NBA playoffs start in April. Winners were determined by a poll of Eye on Basketball staff.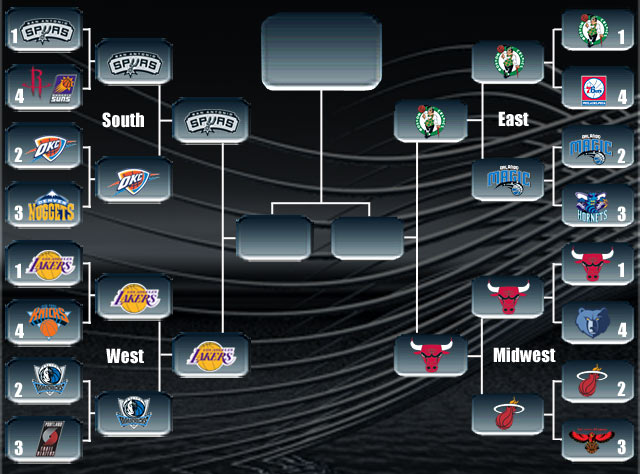 Sweet 16 Round
South Region
San Antonio Spurs (1) vs. Houston Rockets (4)
The Houston Rockets are your prototypical scary upset alert team. They started so slow that expectations evaporated and they are doomed to being overlooked because they play in such a tough conference. Now that they've rounded into shape at just the right time and squeaked into the field, thanks in large part to the recent play of Kyle Lowry, all of a sudden no one wants to play them. Still, in a one-game set, the top overall seed San Antonio Spurs wouldn't sweat this match-up too much. Both Texas teams can put up points in bunches, but only San Antonio has the commitment and system to take opposing offenses out of what they want to do. The Spurs are the ideal team to avoid an early round bracket upset: They're experienced, talented, disciplined and well-coached. Gregg Popovich is really the anti-Rick Barnes when games start to matter. Winner: San Antonio by a consensus 3-0 vote.
Oklahoma City Thunder (2) vs. Denver Nuggets (3)
Every year, there's a game that leaves fans from both sides slapping their foreheads, thinking, "We could make a serious run if we played anybody except these guys!" The new-look Nuggets are one of the hottest teams in basketball, committed on both ends and playing for one of the most respected (and yet still chronically underrated) George Karl. They have a Michigan State of recent memory feel to them, a team that you're constantly hoping is on the other side of the bracket because they will keep coming at you no matter what. Plus, the Nuggets bring with them a solid frontcourt and the ability to Heat up, the biggest pull in the tournament. If J.R. Smith lights it up, that's the ballgame.
The Thunder, though, armed with the league's best scorer and one of its most dynamic point guards are a nightmare match-up in a one-and-done format too. They've shown in recent weeks the ability to rise to the occasion (that win in Miami, anyone?) and have a year of postseason seasoning under their belt (plus blood in their mouth from last season's early exit). In the game that would surely set the opening round television ratings record, we think the Thunder would emerge victorious from the dogfight. Winner: Oklahoma City by a 2-1 majority vote.
West Region
Los Angeles Lakers (1) vs. New York Knicks (4)
Here's the match-up where the underdog team's fans don't even bother to purchase plane tickets to fly out and watch the game because they already know they're going to get demolished. Carmelo Anthony has been scientifically proven to be allergic to winning and the mish-mashed Knicks simply cannot execute well enough yet to overcome LA's powerhouse depth advantage. Maybe next year, New York. But probably not! Lakers roll by 30. The Knicks leave their fans wondering whether they would have been better off being relegated to the NIT. Winner: Los Angeles by a consensus 3-0 vote.
Dallas Mavericks (2) vs. Portland Trail Blazers (3)
Now this is a must-see first round matchup as the re-made Blazers match up extremely well with the Mavericks. This format is a relief for Brandon Roy, who only has to focus on one game instead of potentially seven. Able to focus on a single game, he potentially adds a completely different offensive dimension for Portland and makes it much tougher for Dallas to match up. Not to mention, LaMarcus Aldridge inside is a tough matchup for Dirk Nowitzki and Andre Miller is outstanding at controlling a game, while Marcus Camby and Tyson Chandler sort of cancel each other out.
These two teams have already played some classics this season, and the Eye on Basketball staff is split on who wins out when the game comes down to a couple of key final possessions: Roy and Aldridge or Nowitzki and Jason Terry. Dallas's season-long consistency and Dirk's singular proven greatness sees the Mavs through, but this is surely an upset special. Winner: Dallas by a 2-1 majority vote.
East Region
Boston Celtics (1) vs. Philadelphia 76ers (4)
Jrue Holiday's speed alone is enough to swing the entirety of the casual fan set behind Philadelphia's bid to overthrow the reigning Eastern Conference champs. The Sixers also have the team defensive and rebounding chops to push the Celtics to the wire. Ultimately, and sadly, this is a case of Boston having too many weapons and next-level chemistry. Kevin Garnett will ensure Boston comes to play out of the gate and Ray Allen is already spotting up outside the three-point line, ready to close it down late. Plus, Rajon Rondo knows all the tricks to harass Holiday during his first trip to the national stage. And ... we haven't even mentioned Paul Pierce. Winner: Boston by a consensus 3-0 vote.
Orlando Magic (2) vs. New Orleans Hornets (3)
Here's a geographically unconventional match-up that might give you pause, but only because pairing these teams could never happen in the NBA's conference format. Shake off the surprise and the Magic have got this one locked down: they're playing better basketball than the Hornets lately, they're deeper, they would own the paint and they've been through the fire before. Fifth year senior Hedo Turkoglu is back from his year of studying abroad in Canada and ready to reclaim his reputation as a tournament darling. While Chris Paul is capable of beating just about any team on any given night, his supporting cast is just too hit or miss to put New Orleans over the top. That's too bad, because we hear the Hornets Athletic Department is considering eliminating Men's Basketball after this season. Play like your school's future depends on it, Hornets. Gulp. Winner: Orlando by a consensus 3-0 vote.
Midwest Region
Chicago Bulls vs. Memphis Grizzlies
If you haven't heard yet, Derrick Rose is the single greatest basketball player to ever live and, while unfailingly humble, inspires everyone in his presence to provide maximum effort through the ferocity of his desire to win. With Rudy Gay unable to play due to shoulder surgery, Memphis runs into Chicago's brick wall defense, led by a point guard with no prior tournament experience and a massive hole on the wing. The Bulls have plenty inside to offset Zach Randolph. For a first-time head coach like Tom Thibodeau, Memphis, an undermanned cupcake, is really the ideal entry into the pressures of post-season play. Winner: Chicago by a consensus 3-0 vote.
Miami Heat vs. Atlanta Hawks
Miami goes through by default here, as playing basketball with intelligence and heart for three quarters beats playing basketball with intelligence and heart for zero quarters. The Hawks are basically the Pitt of the NBA: looking decent on paper before laying an egg as quickly as humanly possible. Miami wins this one by 50 but rightfully receives no credit despite the obscene margin of victory. Larry Drew is an in-studio guest commentator within 48 hours after the final whistle. Winner: Miami by a consensus 3-0 vote.
Elite Eight Round
Well, as you can see, lots of chalk here. As a staff, it looks like we overwhelmingly favor the favorites, trusting that their professional instincts and experience playing together are enough to stave off any upset bids, even in a one-and-done format. Now that the Elite 8 is set, who goes through to the Final Four?
South: San Antonio (1) vs. Oklahoma City (2)
This is about as classic a "youth vs. experience" match-up as you can get in the NBA. In truth, Oklahoma City matches up very well with San Antonio: Russell Westbrook has the quickness to stay with Tony Parker, Thabo Sefalosha is a fine defensive match-up for Manu Ginobili and the Thunder have multiple bigs to throw at Tim Duncan now that Kendrick Perkins is on board. Plus, Kevin Durant should be able to do whatever he wants. Really, he could embarrass some people here.
The X-factors are San Antonio's ability to hit from outside and Popovich's coaching acumen. Nobody in the league has the ability to prepare a team for a one-game stand or find a way to gimmick out a victory like Pop. In an exhausting nailbiter that leaves the Thunder players lying on the court afterwards, the Spurs go through. Winner: San Antonio by a 2-1 vote.
West: Los Angeles Lakers (1) vs. Dallas Mavericks (2)
Los Angeles enters this game with a big-time advantage, as they had the luxury of cruising past the New York Knicks while Dallas had to fight and claw past the Portland Trail Blazers. They seize that advantage and don't look back. L.A.'s biggest weakness, athleticism at the point guard position, isn't exploited by Dallas, and their biggest strengths – balanced offensive attack, length down low – are overwhelming to a team that asks Tyson Chandler to do a lion's share of its dirty work. Despite Dirk Nowitzki's resilience and ability to get to the line at will, the Lakers pull away for a comfortable win. Then they gloat about it afterwards. Coach K really should coach this team next year. Winner: Los Angeles by a 2-1 vote.
East: Boston Celtics (1) vs. Orlando Magic (2)
One crucial post-season X-factor that we haven't yet discussed: foul trouble. In a one-game format, a single careless decision by a guy like Dwight Howard can alter his team's entire post-season. Nobody is better at upping the intensity and drawing that kind of carelessness out of opponents than the Celtics, plus they have a morgue full of stiffs to hammer Howard relentlessly knowing full well that the referees will shy from the moment and avoid whistling any flagrants. Sure, it's an ugly formula, but it's enough to see Boston through, as Paul Pierce will be able to do what he wants against Orlando's perimeter defenders down the stretch. Based on past history, there's also a 50% chance Jameer Nelson no-shows, which would make this even easier. Winner: Boston by a consensus 3-0 vote.
Midwest: Chicago Bulls (1) vs. Miami Heat (2)
America's Team vs. America's Most Hated: the dream Elite 8 match-up for television analysts who enjoy praising sacrifice, defense and single-minded dedication to the craft. Those are all factors in our decision to send Chicago through to the Final Four, but the biggest issue is that Miami's recruiting class was simply too top-heavy and egocentric. Too many weak links and too little faith in a not-yet-established coach: even in a one and done format that might favor raw talent, that's a recipe for disaster. Chicago, meanwhile, has just the right combination of elite talent and chip on the shoulder mentality to knock off the Fab 3. Plus, when the game tightens up, the Bulls know who will deliver. Miami has no clue. After this win, Bulls fans look past the Final Four and stream to the internet to talk about the possibility of being repeat champions next year. Winner: Chicago by a consensus 3-0 vote.
Final Thoughts
Yes, embarrasingly, we collectively picked all four number one seeds through to the Final Four. We'll break down those match-ups next week and things should really start to get interesting.
Now it's your turn: Which upsets did we miss? Which favorites do you think are likely to go down early? Weigh in below in the comments.