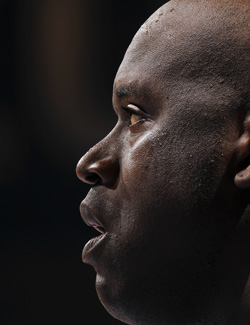 Posted by Royce Young
Boston needs its big man back, bad. And finally, he might be on his way back to the court.
According to ESPN Boston,
Shaquille O'Neal
is set to return April 1.
Shaq has not played since Feb. 1 due to a sore right Achilles tendon, missing 22 games. A large reason Danny Ainge stamped the approval on trading starting center
Kendrick Perkins
is because he believes Shaq, once healthy, will be every bit the big man in the middle the
Celtics
need.
Without him, Boston has struggled to find consistency inside.
Glen Davis
has done yeoman's work, but he just doesn't have the size.
Troy Murphy
isn't a good enough paint presence to defend.
Nenad Krstic
has been fine since joining the team, but again, isn't quite the defensive stopper the Celtics need inside.
Add Shaq in though and now the Celtics have a bit of depth. Shaq starts, Krstic backs him up and adds an extra offensive punch off the bench and now Big Baby goes back to his normal role of backing up
Kevin Garnett
. It will be interesting though to see if Doc Rivers still goes small with Davis at the 5 instead of Shaq in crunch time situations. Something to watch for once Shaq returns.
But with the Celtics struggling as of late, getting help for the last two weeks of the season and heading into the playoffs is huge. Again, the trade was made with it in midn that one of the O'Neals would be back to help. And it looks like the better one in Shaq will be available for the postseason.
Not that the Eastern Conference is that strong inside, but to get over a team like the
Bulls
that feature
Joakim Noah
and
Carlos Boozer
on their frontline, the Celtics desperately need Shaq. Krstic and Davis just won't cut it there. The question is how healthy he'll be, because before the injury, he was playing really well in his limited role.
If he's back in form, the Celtics may survive the curious Perkins trade and have a little extra depth with Krstic and
Jeff Green
to go with it. But a lot hinges on a 39-year-old's achilles, which is a scary thing.