The New York Knicks lost to the Orlando Magic on Wednesday night and the final minutes weren't pretty. Posted by Ben Golliver.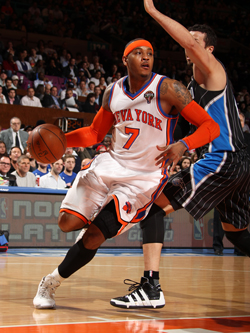 The New York Knicks have been hailed as the second coming of the Miami
Heat
, a bundling of top-end starpower that should be able to execute, if not overwhelm, during crunch time. Much to our collective surprise (and glee), Miami has struggled late in games all season long, especially against top quality competition. On Wednesday night, the New York suffered that same fate, falling apart in ugly fashion down the stretch to lose 111-99 to the Orlando Magic.
I'm as big a fan of
Dwight Howard
and company's defense as the next person -- the Magic are currently No. 3 league-wide in defensive efficiency -- but New York's late-game failure was a combination of bizarre decision-making, a lack focus, and an inability to pound what had been working earlier in the game. Yes, the Magic defense nudged them along those roads, but the Knicks seemed more than happy to go there.
The contrast in execution between the two teams was striking and unavoidable. During the game's closing minutes, the Magic continuously fed Howard giving the Knicks no choice but to foul him repeatedly, hoping he would miss. He didn't -- shooting 8-8 from the stripe in the game's final two minutes -- and Orlando's lead stretched because of it.
Meanwhile, on the other end, it's not exactly clear what the Knicks were thinking.
Carmelo Anthony
finished with 24 points on just 12 shots, got to the free throw line 11 times and registered nine assists on the night. Yet, on multiple crucial possessions, other Knicks took the shots. Down six with six minutes to go,
Shawne Williams
jacked a three-pointer. Down eight with four minutes to go,
Chauncey Billups
jacked a three-pointer. Down seven with under three minutes to go,
Toney Douglas
got sent back by Dwight Howard. Down nine with just over a minute to go, Williams inexplicably and carelessly lost the ball out of bounds under moderate pressure near halfcourt. On the very next possession, Williams jacked another three-pointer. Give me a break.
Make no mistake: defense was still an issue for the Knicks, as they gave up 111 points on the night and watched as the Magic went on a 10-3 run to close the game.
But Anthony, New York's leading scorer on the night, took just one shot, had just four free throw attempts and notched just two of his assists during the fourth quarter. That might be understandable if the team system is flowing, but it wasn't.
Against quality, playoff-tested competition like the Magic, you can't get away with being unable to get one-on-one stops
and
being unable to get your best player going late. You might be able to get away with one, but certainly not both, even at home. So the Knicks go down again.