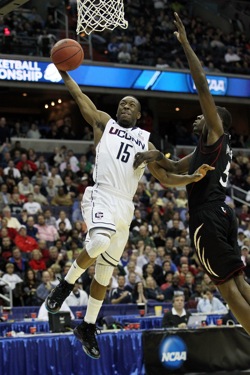 Posted by Royce Young
Kemba Walker's junior season has been of the breakout variety. He's been outstanding all season, but his performance in the Big East tournament and efforts in the Huskies opening two games of the NCAA tournament have him twinkling the eyes of NBA general managers.
And one team reportedly very intrigued by Walker is the Charlotte
Bobcats
.
According to ESPN.com,
Bobcat owner Michael Jordan is a "big fan" of Walker's. Hard not to be. I mean,
did you see this crossover-stepback jumper
in the Big East tourney?
Right now, Walker is projected to go seventh by Draft Express and it's pretty much a lock that he'll go in the top 15 picks. So a lot depends on where the Bobcats fall. They're still pushing for the playoffs as of now, so if Jordan really is that big of a fan, maybe the Bobcats will bust out the T-word.
They kind of tried to start the tanking by trading
Gerald Wallace
but not even they could anticipate the suckitude of the bottom of the East. Despite losing, the Bobcats are still right in the race, only two games back of the
Pacers
.
Walker's NBA prospects appear to be very good, though there is some debate about where he would play. He's not officially a point guard, but he's probably too small to play shooting guard. He seems to fit right in the middle of that, but that whole "true point guard" thing is so overrated. I mean, by traditional standards
Russell Westbrook
isn't a point guard. Neither is
Derrick Rose
. Or
Deron Williams
. All that matters is if you're good and Walker is certainly that.
The Bobcats have deeply missed
Raymond Felton
who they let walk in free agency, handing the reins to
D.J. Augustin
who has been decent, but not consistently effective. Walker would seem to be a great fit because of his ability to score one-on-one (something Charlotte really needs), create (something Charlotte really needs) and shoot (something Charlotte really needs). He'd likely fit right in as the team's starter from day one.
There's good reason for Jordan to be a fan of Walker. He fits well and is definitely something the Bobcats need. It all depends on where they fall though. If UCONN continues a push through the tournament and his stock rises, maybe Charlotte mysteriously loses its next 10 of 11. Funny how things work like that.