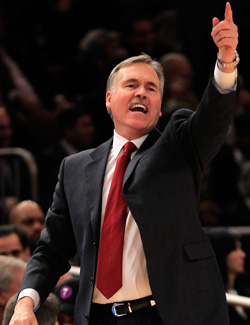 Mike D'Antoni says the ball is "sticking" and it's got to move more. But isn't the addition of Carmelo going to make that a little difficult, realistically?
Posted by Matt Moore
Being part of a professional basketball team in New York is pretty awesome. You get access to all the culture, the parties, the money, the perks. You're a national figure and when things are good, you're the toast of the biggest town there is. Of course, when things go badly after you've made a huge move to acquire a second All-Star and go 7-9 with losses to the
Celtics
in a huge collapse and two losses to the
Cavaliers
, you get the other side of it. Which is a billion media members asking similar questions and expecting different answers. But Mike D'Antoni has always been an affable, reasonable guy, and he told the reporters the truth. Which is that the offense is struggling because of pace, and that pace is dictated by the ball sticking. From the
New York Times
:
"Our offense has slowed down to where our pace is not good," D'Antoni said. "The ball is not moving, it's sticking. We've played a lot of games. I don't want to give excuses, but at the same time it's the fourth game in five nights. They get into you." "We've got to make quicker decisions,'' he added. "The ball's got to go. And especially in the fourth quarter we bogged down."
via
Knicks
Keep Looking for Answers - NYTimes.com.
Perfectly reasonable coach response.
But can I lodge a follow-up?
Who in the name of Clyde did D'Antoni think he was getting when he got
Carmelo Anthony
?
Anthony's an elite scorer and can be a terrific rebounder when he puts his head to it. His defensive prowess even has some upside that would make you optomistic were it not for the fact that no D'Antoni team ever puts an emphasis on defense. But ball movement?
Anthony has the
second highest percentage of possessions being used
per game in the league behind
Kobe Bryant
. His
assist rate isn't bad
, comparable to
Kevin Durant
. But when you're using that many possessions it's hard to create many assists. In short, Anthony's a ball-stopper. Always has been. He'll take several seconds sizing up the defender in ISO on the wing to see if he has room for a pull-up J. He's not good at simply keeping the ball moving, as he wants to create with it. Which would be great if he was creating more offense, but he's most often just creating more field goal attempts, which is not the same thing (especially with New York's rebounding core).
This is who Anthony is, and it's one of the concerns people had with the Knicks acquiring Anthony at all, much less for the massive trade package they surrendered in the deal. D'Antoni is going to have to get it across to him that he can't be the same player he's been if the Knicks are going to have a cohesive system under D'Antoni.
The problem is that's probably not Carmelo Anthony's biggest concern.
The Knicks face the
Magic
Wednesday night.