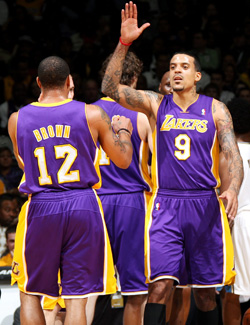 Shannon Brown and Matt Barnes have options to play for L.A. next season. Their decisions are at once complex and simple.
Posted by Matt Moore
Shannon Brown and Matt Barnes will have the ability to test the market next season, under whatever weird new skies the CBA will then fly under. The
Los Angeles Times
reports that while Barnes' intends to stick around and exercise his option to stay with the
Lakers
as they make their first championship run with this core without Phil Jackson, Brown's a bit unsure. Barnes, though, made it quite clear what his top priority is:
Barnes, on the other hand, is mainly seeking stability. He is on his eighth team in an eight-year career. He has stayed with the same team for entire back-to-back seasons only once (Golden State in 2006-07 and 2007-08). "At this point, I want to win," Barnes said. "Unless it's something where people say, 'You're dumb for turning that down,' I don't really see myself making a move."
via
Lakers FYI: Lakers' reserves keeping their options open - latimes.com
.
Brown's in a different spot. He's having a career season, and while he turned down more money to return to L.A. this season, with Phil Jackson gone and the core getting older, Brown may want to go pursue his own career. The worry for him should be the effect that often occurs where a role player who dazzles on a loaded team with superior weaponry, then finds himself only average to below-average elsewhere. There are a lot of names for this effect, the most recent being "the Ariza corollary."
Barnes should stay in L.A.. They need someone who brings his attitude and toughness, plus he can stretch the floor. It's a good fit and if money's not the issue, there's nowhere better to be. The Lakers will maintain the ability to bring back quality players at discounted prices even after Jackson moves on. After all, not like Kobe's going anywhere.