Posted by Royce Young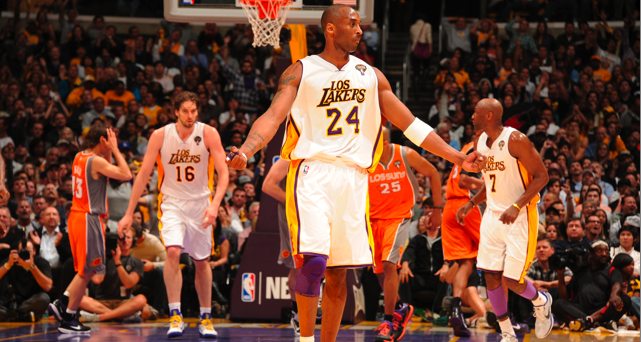 You want March Madness, have you some March Madness.
The
Lakers
and
Suns
played an instant classic Tuesday night with the game going to three extra frames before Los Angeles finally prevailed, 139-137. Here's how wild this one was: Eventually it took a
Ron Artest
takeover in the third overtime for this thing to go to bed.
It was the type of game where it appeared to be over multiple times, but because of the Suns' ability to knock down 3s and the Lakers having
Kobe Bryant
, neither team would lay down. Finally the Suns ran out of gas after Artest hit a tough jumper in the lane to put the Lakers up five with a minute to go.
Channing Frye
drained a 3 to get it back to two, but Kobe hit a runner with 14 seconds left to put L.A. back up four. The Suns wasted too much time before
Vince Carter
finally hit a layup with 1.2 seconds left and all the Lakers had to do was get the ball in.
But that's just how it
ended.
How we got there is the interesting part.
In regulation,
Grant Hill
hit a corner 3 to tie the game at 112-112. Kobe missed a decent look to win and Phoenix snared the rebound. With a chance to win at the buzzer and save us all an extra hour, Carter missed wide on a 3 at the horn. On to overtime.
The Lakers looked to have it locked up leading by three and after a missed trey,
Steve Nash
tracked down the rebound and kicked back to Frye who was fouled on a desperation 3 by
Lamar Odom
. Naturally Frye drained all three free throws and we were off to another five minutes.
Phoenix had its chance in the second OT. Nash made an absolutely unreal play passing the ball behind his back as he was falling of out bounds to
Marcin Gortat
who steamrolled down the lane, eventually kicking to a wide open Frye who drained a 3 to put the Suns up 130-128 with 50 seconds left. The Suns got a stop, but Nash was unable to convert. The Lakers ended up with
Pau Gasol
knocking down a pair of free throws to knot the game at 130-130 and send us to a third overtime.
The Suns scored first and the Lakers started the third OT frame 0-6 from the field before Kobe eventually drained a deep ball. But maybe the biggest play came right before it as Grant Hill, who had defended Kobe brilliantly, picked up back-to-back which happened to be his fifth and sixth. Kobe immediately dropped the 3 to put L.A. up 133-132. Artest came up with a steal and a surprising lefty dunk, then hit the jumper that basically sealed it.
It was, quite the game.
A lot was on the line for Phoenix who are battling for eighth in the West while the Lakers are still trying to lock up the No. 2 seed. The Suns obviously need every game they're in and this one was no exception. They're three games back of the
Grizzlies
right now and with time running low on this season, each game is at the highest importance. Shame is, this triple-overtime game may cost them two, as they play Wednesday night at home versus the
Raptors
. Obviously still winnable, but it'll be interesting to see how the old bodies of Nash and Hill respond to play for three-plus hours.
Some games just don't die. Especially when you have a team as resiliant and hungry as the Suns against a team as talented and smart as the Lakers. What's funny, is that the only reason we got to three overtimes is because the Lakers blew a 15-point lead in the second half. The Suns got hot from 3, the Laker offense went cold (specifically the second unit) and Phoenix executed and hung in there. It's a bummer for the Suns to put that much in only to lose, but it was quite the effort and truly a terrific game.
Some stats from this one:
Channing Frye played a game-high 57 minutes. He scored 32 points and had 14 rebounds.
Coming off the bench, Marcin Gortat played 53 minutes and had 24 points and 16 rebounds.
The Lakers took 120 shots. Phoenix attempted 106.
The upset of the night? Kobe played 48 minutes and three overtimes yet somehow still only took 31 shots. He scored 42 points though and had 12 rebounds and nine assists to go with it.
Steve Nash finished with 20 assists and 19 points.
Impressive stat:The Lakers and Suns combined for just 22 turnovers in a triple-overtime game. That's crazy.
Opposite of impressive: In a game that went to three OTs and was that close, Vince Carter was still somehow a -20.
Derek Fisher finished with just two points on 0-7 shooting in 46 minutes.
Robin Lopez, who started the game at center for Phoenix, played only 10 minutes.
This was only second-ever triple-OT game at home in Los Angeles Lakers history. Other one came in February 1969.