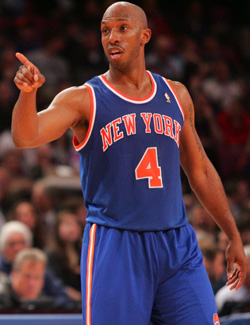 Knicks looking to re-sign Billups long-term, but is that the right move?
Posted by Matt Moore
Mike D'Antoni's system requires a great point guard. That isn't just an implication from
Steve Nash
's prolific success in Phoenix. A team that runs that much and relies on spacing needs an elite distributor. Forwards, bigs, they're all elements but the engine that really makes the Knicks go will be a great point guard to quarterback the offensive weapons.
So it's surprising to learn Tuesday that according to the
New York Daily News,
the Knicks are considering bringing
Chauncey Billups
back past next season.
Head coach Mike D'Antoni and team president Donnie Walsh are in favor of holding onto Billups beyond next season. Of course, there are no guarantees that D'Antoni and Walsh will be around beyond next season but most coaches would advocate keeping a point guard whose value extends beyond the court.

D'Antoni has publicly endorsed Billups on several occasions and believes that the one-time NBA Finals MVP can still play at a high level even though he will be 35 years old by the start of the 2011-12 season. D'Antoni has compared Billups favorably to Steve Nash, who at 37 is still going strong. The same is true of Jason Kidd, who turns 38 on March 23.

"Oh yeah, people get hung up on age," D'Antoni said. "(The talk) is he's done. He's got five more years. He was an MVP of the Finals. He's been at All-Star level. He is at an All-Star level. I just think he has at least four, five good years left."


via
It makes sense for the Knicks to keep Chauncey Billups around a few more years
.
Billups also told ESPN that he's interested in returning to New York.
Chauncey Billups said late Monday night that he's hoping to remain with the New York Knicks next season and "going forward." Billups' contract contains a team option for 2011-2012 for $14.2 million. The Knicks can pick up the option or buy Billups out for $3.7 million. "I haven't ruled anything out. Obviously, I'm hoping to be a New York Knick next year and going forward after that. But I can only control so much," Billups said.
via
Billups: I hope to be a Knick in 2012 - Knicks Blog - ESPN New York
.
It's interesting that Billups is so receptive to staying in New York after saying repeatedly that he wanted to retire in his hometown of Denver. But he may just be saying the right things now that he's a Knick and understanding how quickly situations can change. More perplexing is a long-term commitment to Billups, unless it's at a discounted rate. Billups, as D'Antoni said, is a former Finals MVP and former All-Star. He is a great point guard. But he's not a great point guard for D'Antoni's system.
D'Antoni needs a distributor, someone who will probe the defense, get out in transition, open up lanes, and work for the hard pass to create open shots. Even a younger guard like
Darren Collison
is a better fit going forward. Billups is only going to slow down and struggle more, physically, as he gets older. Extending him will be a costly process, because he can still play at a high level. And when his price goes up, the odds of the Knicks making a move for a player like
Chris Paul
or
Deron Williams
go down. And when that happens, the Knicks settle in for the long-term with an incomplete roster shackled by an aging point guard.
If, however, they can get Billups with a reasonable contract, to stay with the Knicks and mentor the team as a veteran, possibly working as combo-guard in the two-spot, they could really have something. It's only committing to Billups as the starter, as a member of a theoretical "Big 3" that is fraught with risks.