Posted by Royce Young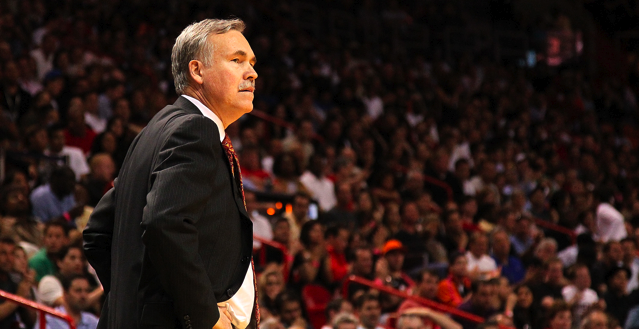 Last night against the
Celtics
, the New York offense went completely into the toilet in the second half. The team scored only 35 points the last 24 minutes and was outscored 24-3 in the last seven minutes. I talked a lot about it already, but I couldn't help but think today,
what gives?
I mean, the
Knicks
have two of the top 10 or 15 offensive players in the league, maybe the top offensive coach in the game and a quality point guard that knows how to run the show. Why would they have problems?
One thing comes to mind: They're playing slower. Much slower. For the season, the Knicks play at a pace of 95.7 (second in the league), but over the last five, that number has dipped to 92.3 (that's bottom half). During that stretch, New York has averaged 102.6 points per game, as opposed to 106.2, which is what they average on the season.
Look at Monday night against the Celtics. The Knicks played at a Blazers-esque 89 possessions for the game. That's
slow
, especially for a team that prides itself on running and gunning.
Hoopdata ran some numbers
on how the Knicks have slowed down and what's become clear is that instead of setting tempo and making opponents uncomfortable, New York is playing to its opponents pace. There's no more
After watching closely, it comes down to two things to me: 1) It's an intentional effort to slow the game down which results in fewer defensive possessions, where the Knicks struggle and 2)
Carmelo Anthony
slows them down by himself.
What do I mean by that? Well, it's simple: Melo stops the ball. The Mike D'Antoni offense is all about quick passing, movement and shooting. But when the ball goes to Anthony, it stops right there. He's not a willing passer, at least in the sense that he doesn't like to pass without first looking at his chances of scoring.
It's kind of weird though because it's not like Melo isn't used to tempo. Remember, he played in Denver and George Karl had that team running. The
Nuggets
were a top five pace squad. So like I said, it's a combination of intentionally slowing down along with Melo stopping the ball. The real question is why, because as Monday's loss to Boston showed, it's frustrating. The Knicks tried to beat the Celtics at their game which is like me trying to beat up Brock Lesnar without a baseball bat and six other friends.
Obviously at this moment, the adjustment's not working. D'Antoni keeps talking about how they're working and how they're trying to get there. Maybe what he means is that they're making an adjustment to a new style. The Knicks want to go more defensive and so as a result, the offense is going to suffer for now. Maybe it's a trade they're willing to deal with while they adjust.
Whatever the case, it's pretty ugly right now. The Knicks aren't running, they aren't scoring and they aren't playing defense. It's confusing because the team is built to get out in transition and with two terrific offensive players, the fact they can't score is a real brainbuster.