A Sacramento man is encouraging fans to boycott Kings games because the franchise might relocate to Anaheim. Posted by Ben Golliver.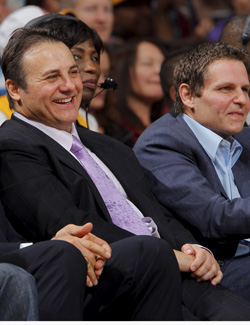 Day by day, the Sacramento Kings' potential relocation to Anaheim gets uglier and uglier.
The latest turn features a direct backlash to the team's ownership group, the Maloof family, as
News10.net reports
that a Sacramento man is calling on the team's fans to boycott an upcoming game as retribution for the team's relocation plans.
Doug Elmets of Elmets Communications is urging fans to boycott the April 1 game against the Denver Nuggets. Playing off the earlier campaign waged by loyal fans called "Here We Stay," Elmets is calling his boycott "There They Go."
"Every indication is that the Kings are going to be leaving. And why should we, in the final few games, be rewarding the Maloofs by putting more money in their pocket and selling out these games," Elmets asks.
"Let's take one game, one game only -- the one that is most appropriately on April 1, April Fools Day, and boycott that game," he suggested.
The Kings, who have already been eliminated from the playoffs, host the Denver Nuggets on April 1.
The folks in the "Here We Stay" movement would counter Elmets' argument by saying that hope still exists, despite all the warning signs. One possible snag in the relocation effort,
SacTown Royalty notes
, surrounds a possible delay in renovation funding for Anaheim's Honda Center, something that would be necessary for an NBA team such as the Kings to play there.
The boycott concept really isn't all that logical here, at least not yet. There is plenty of time for spite and anger should the Kings finally decide to relocate. A deal isn't done until it's all the way done, and, unfortunately, its the Maloofs' team so they hold all the cards. The "Here We Stay" campaign has made so much sense because it appeals to basic emotional concepts -- loyalty, family, shared history -- that have the potential to change someone's opinion even if doing so isn't in their financial best interest. A boycott only encourages a dismissive response.
In other words, continue to hold out hope, Kings fans, as long as hope still exists.
h/t: HoopsHype