The Memphis Grizzlies are reportedly close to signing forward Zach Randolph to a multi-year contract extension. Posted by Ben Golliver.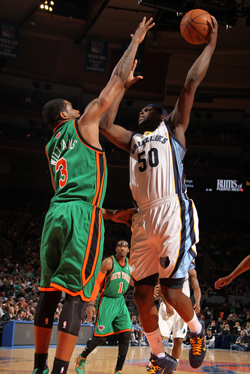 The Memphis Grizzlies are on the cusp of making the playoffs for the first time since 2005-2006, and they are reportedly close to inking one of their centerpiece players to a long-term extension too.
The Memphis Commercial-Appeal reports
that the Grizzlies and power forward Zach Randolph are in "serious" talks about a four-year contract extension and that Randolph's agent, Raymond Brothers, is "optimistic" that a deal will get done.
The Griz initiated and held serious contract negotiations with Randolph over the past week, and both sides continue to discuss the framework of a four-year deal that could be finalized soon.
"I think they're serious," Brothers said of the Grizzlies' intent to sign Randolph. "I'm optimistic we'll get something done."
Grizzlies GM Chris Wallace confirmed the discussions.
"They know our sincerity to get something done with Zach," Wallace said. "They know how much we value him. We've had good and numerous discussions. There's never been a stalemate. (Negotiations) just moved at it's own pace. I'm very confident we'll get something done."
Randolph is Memphis's leading scorer and rebounder, a certified stats machine averaging 20.1 points and 12.6 rebounds in 36.7 minutes per game. At 29, a four year deal isn't outrageous. If the Grizzlies can secure a team option on the final year, it would actually be pretty much ideal.
The Grizzlies have already committed long-term to forward
Rudy Gay
and point guard
Mike Conley
. Center
Marc Gasol
is a restricted free agent this summer, but surely Memphis will do whatever it takes to keep him. Randolph was the wildcard, a player who will certainly come at a high price but who would have left a gigantic void if he walked during free agency.
The Grizzlies incarnation of Randolph has been by far the most fun and entertaining. He's matured, mellowed out and kept on trucking through some off-court drama. Should the Grizzlies anticipate some slippage in his production over the duration of a new deal? Absolutely. But should they feel relatively happy with a Randolph/Gay/Conley/Gasol core heading forward into the future. Absolutely. That group has a nice solid mix of age and experience, fairly complementary skillsets and good size and length.
No one should confuse these guys with the Oklahoma City
Thunder
, but that Memphis quartet has the look of a perennial playoff contender, something the Grizzlies haven't been ... well ... ever.