Is New York Knicks forward Carmelo Anthony having trouble fitting in with his new teammates? Posted by Ben Golliver.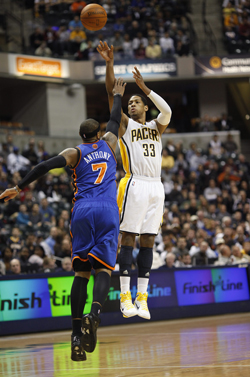 This is what they mean when they talk about the media glare in New York. Carmelo Anthony has been a member of the New York Knicks for less than a month, but already there are questions about how well he's fitting in with his teammates and organization on and off the court.
As we noted Saturday
, Anthony played horribly on Friday night and then skipped out on reporters after the game, drawing some criticism in the process. His absence wasns't only confined to the post-game locker room, however. Multiple outlets,
including the New York Post
, noted that Anthony was withdrawn during Friday night's loss as well, standing off to the side during a timeout.
The Post writes that Anthony's behavior on Friday is indicative of a larger issue: he isn't doing enough to fit in.
Nevertheless Anthony's pouty behavior in Friday night's 99-95 loss to the Pistons, his bad oncourt body language, his failure to join a timeout huddle when not in the game has raised red flags about his readiness to handle the pressure for being a basketball star in New York. The honeymoon is officially over.
The feeling from the coaching staff, Stoudemire and other players is Anthony needs to change and adapt to the team and personnel around him rather than the opposite. Anthony must start ingratiating himself more to his new teammates who love D'Antoni's up-tempo style.
Certainly these feelings are not coming from nowhere.
Throwing his coach's defense
under the bus recently was a particularly bad look. That's going to rub a lot of people -- potentially D'Antoni himself -- the wrong way.
On Sunday, Anthony tried to extend an olive branch, praising D'Antoni's offense and asking for some time to make things work in
comments posted on ESPNNY.com
.
"[Coach] D'Antoni got a hell of an offense, I can tell you that. Everybody knows that around this league, everybody on the team knows that.
"It's a matter of me picking my spots in the offense and figuring them out in a timely fashion. What I told the guys is 'Let's be patient, man. This is not going to get together, this is not going to be 100 percent in two-and-a-half weeks. It'll just take some time.'"
D'Antoni, who recently suggested Knicks fans take some Prozac, continued to preach that same message of patience.
"I think everybody wants an ideal situation where it's all campfires and singing and all that, but it's just not going to be that way," D'Antoni said. "We have a lot of high stakes right now, and as you see there's people that want to getcha. Again, it's nothing bad, that's just the way it is.
While both Anthony and D'Antoni are playing this one by the book, it's clear from their comments that they both believe that there is still work that needs to be done to make this transition a successful one. Anthony is no coach-killer, not by a long shot, but he's been good enough for long enough to feel that his way is the right way. Same thing with D'Antoni. As the new guy, the onus is on Anthony to bend over backwards to make things work, but it's not clear whether that type of concession is in his DNA.
Something -- or someone -- is going to have to give here if the results are going to be better than they have been over the last month. But it's not clear who, if anyone, has the cachet to step in to forge a compromise and make the transition complete.