Would Los Angeles Clippers forward Blake Griffin look to play elsewhere in the future because of disgraced owner Donald Sterling? Posted by Ben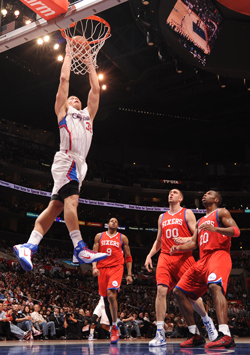 Golliver.
We need not run down the list of Los Angeles Clippers owner Donald Sterling, but no matter where you're from or how politically correct you are, he has offended your sensibilities. He answers to no one besides, maybe, himself.
Friday,
CBSSports.com's Ken Berger reports
that Sterling's behavior, which has become unavoidably grotesque this season, has caught the eye of his franchise forward, Blake Griffin.
In between jumping over compact cars and dunking on your favorite team, Griffin is sizing up his owner in consideration of his future.
But if Sterling's reign of incompetence and downright meanness continues, there is perhaps one outcome that finally could build enough momentum to overturn, or at least rein in, his dictatorship. Sources say rookie sensation Blake Griffin is closely monitoring Sterling's struggles and is concerned, to say the least, about the owner's unfortunate string of public embarrassments. Under current NBA rules, players on rookie contracts have little power to influence where they play. And from the standpoint of talent and assets, the Clippers are on excellent footing going forward. But Griffin will not be tied to the Clippers forever, and there are indications he will consider not only the Clippers' ability to compete for a championship, but also the kind of owner he wants to play for when he becomes eligible (under current rules, anyway) for an extension on July 1, 2012. Would alienating the most promising player in franchise history be grounds for Sterling to finally be held accountable? The Clippers, still 42 months away from Griffin's extension eligibility, are said to be losing no sleep over the matter for now. But at some point soon, they should.
The only problem that I can see with Griffin being able to influence Sterling's behavior is that we can't be certain that Sterling actually knows who Griffin is. Sure, Griffin is the most YouTube'd player in the world, arguably the most athletic player in the NBA, was the toast of the town in Los Angeles over All-Star Weekend after winning the Slam Dunk Contest, is set to be named Rookie of the Year in a few months and is bordering on being a top 10 overall player in his first trip through the league.
But we can't forget one simple fact: Sterling
said in court this week
that he didn't know who Elgin Baylor was when he hired him to be his GM. Elgin Baylor: NBA legend, Hall of Famer, one of the 50 greatest players of all time. If you don't know who Baylor is, we can't assume you know who Griffin is. Sad, but true.
The best case scenario here is that Sterling finally sells the Clippers to a thoughtful, modern owner who keeps Griffin in the City of Angeles for his entire career, smartly building a championship contender and rival for the
Lakers
around the league's most dynamic frontcourt talent in years.
The second best case scenario is for Griffin to flee Sterling as quickly as possible. Sadly, that scenario is much more realistic. It's way easier to change cities than it is to change a clueless owner's conduct.