The owners of the Sacramento Kings have issued a statement of support for GM Geoff Petrie amid rumors that they are looking to make a change.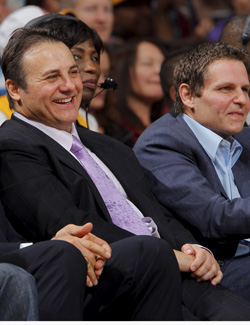 Posted by Ben Golliver.
The vultures are circling in Sacramento, as
continuing reports
that the Kings and its owners, the Maloof family, are looking to relocate to Anaheim have prompted rumors that the organization might be looking for a new management team as well as a new market.
On Friday,
ESPN.com reported
that former Portland
Trail Blazers
GM Kevin Pritchard was under consideration for Sacramento's GM position, which is currently held by Geoff Petrie.
Sources close to the situation say that Kings co-owners Gavin and Joe Maloof, after years of patience, are giving strong consideration to starting all the way over should the team complete its increasingly anticipated relocation to Anaheim … which would mean a change in the front office, as well, before deciding whether to retain or oust Westphal.
The Maloofs, sources say, are fans of former Trail Blazers general manager Kevin Pritchard and increasingly considering him as a potential hire for the looming new era in Orange County as the Anaheim Royals.

It remains to be seen if the Maloofs can actually stomach going through with such an aggressive revamp, after working so closely with Geoff Petrie so long, but the Kings have been steadily declining since Petrie's unsuccessful dismantling of their glory-days team from the early 2000s.
Within hours of that report, the Kings issued a release to the media that backed Petrie.
"There is absolutely no truth that we are considering anyone else for our General Manager position. We consider Geoff Petrie to be the best in the business and look forward to continuing our resurgence with him at the helm."
If this song and dance sounds and looks familiar, that's because virtually the same thing happened back in December, when
CBSSports.com's Ken Berger reported
that the Maloofs might be ready to move on from Petrie and coach Paul Westphal.
Writing on Friday
, Berger notes that a move to Anaheim "would be only one of many factors making the time right for an organizational housecleaning."
You know the old saying: owners support GMs right up until the second they decide to fire them, so take the Maloofs' statement with a grain of salt. They're doing Petrie, a long-time employee, a solid by protecting him from a one-sided account, but that doesn't mean they should stick with him blindly this summer, especially if they do go through with plans to relocate.
If only the Maloofs showed as much respect and consideration to their fanbase.
Anyway, the Kings have been spinning their wheels in the league's basement for years. An executive like Pritchard, who has experience building an organization from the ground up and winning back a lost fanbase in Portland, would seem an ideal fit for a move to a new market. Pritchard developed a reputation as a bit of a salesman in Portland, and while that might not work a lot of places, trying to pitch the "Anaheim Royals" to a sports-soaked market like Southern California is going to take an executive with the right mindset and communication skills.
Once the ink dries on their press release, the Maloofs should give some thought to the idea of Pritchard, or a young executive like him. Assuming they haven't already, of course.