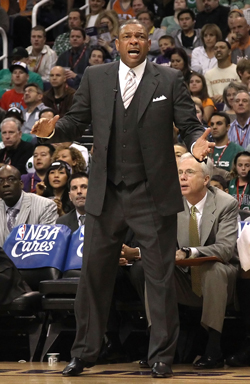 Posted by Royce Young
It took the
Celtics
' big three and Danny Ainge to get Doc Rivers back for one more year last summer.
But via ESPN.com,
it may take a lot more than that to get him back for another.
By the sounds of it, Rivers is ready to step away, at least for a season, in order to enjoy some time with his family. If Rivers didn't return, it would certainly be a blow to the chemistry of Celtics, but they'd move on. So who would be on the short list to replace Rivers?
A couple names that were mentioned were Celtic assistant and former New Jersey head coach Lawrence Franks and even former Celtic great Kevin McHale. Those are the obvious names that are already being linked, but as the report notes, Ainge may look for an unknown to replace Rivers. Or at least someone nobody is thinking about.
Ainge has certainly had time to prepare a backup plan to Rivers because Doc was very close to resigning last summer before the Boston big three convinced him to come back. So there's been time for Ainge to make some phone calls and put out some feelers. As much as Ainge has been prowling the trade and free agent market, he's also had an eye out for potential coaching candidates that might fit?
Who could the mystery men be? I don't really have a good guess, though I'm sure Ainge would at least call Tom Thibodeau just to see. No way Thibodeau leaves his job in Chicago that quickly, but sometimes there's sentimental value there. And I'm really struggling to come up with a mystery name here.
Basically any name at this point is wild speculation. The only one I'm pretty sure we can cross off is Rick Pitino. I don't think he's going to be walking through that door again. And Isiah Thomas. Because he's crossed off every list.
But all of this is contingent on what Rivers decides. He may indeed want another season. It sounds unlikely as Rivers really wants to watch his Duke-bound son Austin play his freshman year, but that itch to make another run might be too strong for him. We'll have to wait and see. And while we wait, Ainge will be plotting the next move.