Allen Iverson is expected to receive medical clearance so that he can continue his career with Turkish club Besiktas. Posted by Ben Golliver.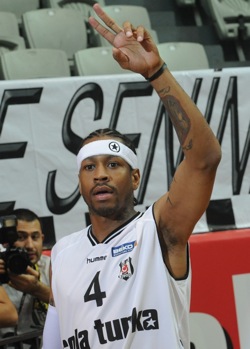 When we last heard from former NBA All-Star Allen Iverson
back in February
, noted surgeon Dr. James Andrews said Iverson needed to spend 6-8 weeks resting his leg as he recovered from a calcium deposit in his calf.
Six weeks have passed and
ESPN.com reports Friday
that Iverson "expects to receive medical clearance on Monday" so that he can make a return to the Turkish team, Besiktas, that he signed a multi-year contract with last fall. Iverson's business manager, Gary Moore, is quoted as saying Iverson is raring to go pending doctor's approval.
"He's going to start rigorous training as soon as he has clearance," Moore said. "He's determined to get back to playing."
"He's ready to go back," Moore said. "He just needs the word from Dr. Andrews."

Iverson's brief stint this fall and winter produced some amazing footage. After
agreeing to sign
with the team in October, he was
mobbed at the airport
and
cheered at a soccer stadium
. There were also rumors that he was
set to retire
and that
he was broke
.
When the extent of the injury was finally confirmed, Iverson's manager made it clear that Iverson, 35, wanted to continue his playing career as he remains under contract with Besiktas through next season. One of the league's most tenacious players and a lock to make the Hall of Fame, we probably shouldn't have expected anything less.
Iverson
averaged
14.3 points and 4.7 assists in 31.4 minutes for Besiktas in seven Turkish league games before his injury.