New York Knicks coach Mike D'Antoni tells fans of his team to settle down. Posted by Ben Golliver.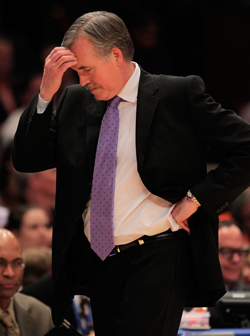 On Thursday
, we noted that New York Knicks forward
Carmelo Anthony
was confused by his team's defensive schemes and that the Knicks have been the league's worst defense since they traded for Anthony before the NBA trade deadline.
As you might assume, Knicks coach Mike D'Antoni, who has never been known for his defenses, is preaching patience ... and prescription medication for fans that are caught up in the short term. His thoughts,
as quoted by NorthJersey.com
.
"It's great. They care. Take some Prozac or something, hang in there. We're hanging in there. We're pedaling as fast as we can pedal.
"The biggest thing, and I'm going to keep repeating, is we're not going to get caught up in the hysteria. We're going to be who we are. We're going to play as well as we can and get it together and hang together as a group and try to make the playoffs and try to do as good as we can."
D'Antoni had some license to joke, as the Knicks had
just stomped
the Memphis
Grizzlies
, 120-99.
There's no short-term panacea for the Knicks though. Defense will continue to be an issue until the offseason, at the earliest, when some defensive-minded reinforcements, hopefully including a center, can be called in to supplement the current group.